It's that time of the year guys! This time I've again kept my capsule within the very autumnal colour range, which I'm gonna merge with my all-year basics to (like every season) freshen up those very basic items, but also to have some things in my wardrobe that fit the temperatures more. Like I describe in my step-by-step capsule wardrobe guide, the total number of items I have in my capsule wardrobes doesn't matter that much to me anymore. Maybe it's just because I've been doing capsule wardrobes for so long now – most people, especially if you're new at this, like to stop at 37 items in total. Of course it's important not to overdo it and have too many items in your wardrobe that you'll end up not using so around 37-45 is a good ground rule, and it's also usually somewhere in that range I end up. But it's more important to me, that I have the RIGHT things in my capsules. My all-year basics contains 32 items (without accessories) and more or less remains the same throughout the entire year. My seasonal capsules usually ends up having around 8-12 items in them, but it sort of depends on my mood that particular season. Sometimes I add a few new purchases sometimes nothing, which is the case this time. I had so many nice things in my autumn capsule that I really wanted to bring with me into the winter season, and besides that I've just "shopped" some items I already had from the previous winters, that has just been stored away.
Så blev det atter den tid på året venner! Denne gang har jeg igen holdt mig til de klassiske efterårs/vinterfarver, som jeg vil blande ind imellem min basisgarderobe for (som ved hver sæson), at puste noget liv i den men også for at have nogle items, der passer temperaturmæssigt til sæsonen. Som jeg også beskriver i min capsule wardrobe step-by-step guide, så betyder antallet af items i mine capsules ikke længere så meget for mig. Måske er det bare fordi jeg er "øvet" – de fleste kan godt lide at lægge sig fast på 37 items i alt. Det er selvfølgelig vigtigt, at man ikke overdriver så 37-45 er en god tommelfingerregel, og det er som regel også der jeg selv befinder mig. Men det er mere vigtigt for mig, at det er de rigtige items jeg har i min garderobe. Min helårs garderobe (basis garderobe) er jo den samme hele året rundt mere eller mindre, og den indeholder 32 items minus accessories, der efter mit system ikke tæller med (jeg har dem bare med på mine oversigter, for at indikere den slags selvfølgelig også er der). Mine sæsonbaserede capsules ligger som regel på 8-12 items, men det kommer meget an på mit humør den pågældende sæson. Og indimellem køber jeg lidt nyt – andre gange ikke, hvilket er tilfældet med min vinter capsule her. Jeg havde så mange fine ting i min efterårsgarderobe jeg gerne ville føre med videre, og udover det havde jeg rigtig mange gode ting fra de sidste par vintre, som jeg faktisk bare har "shoppet" i mine gemmer.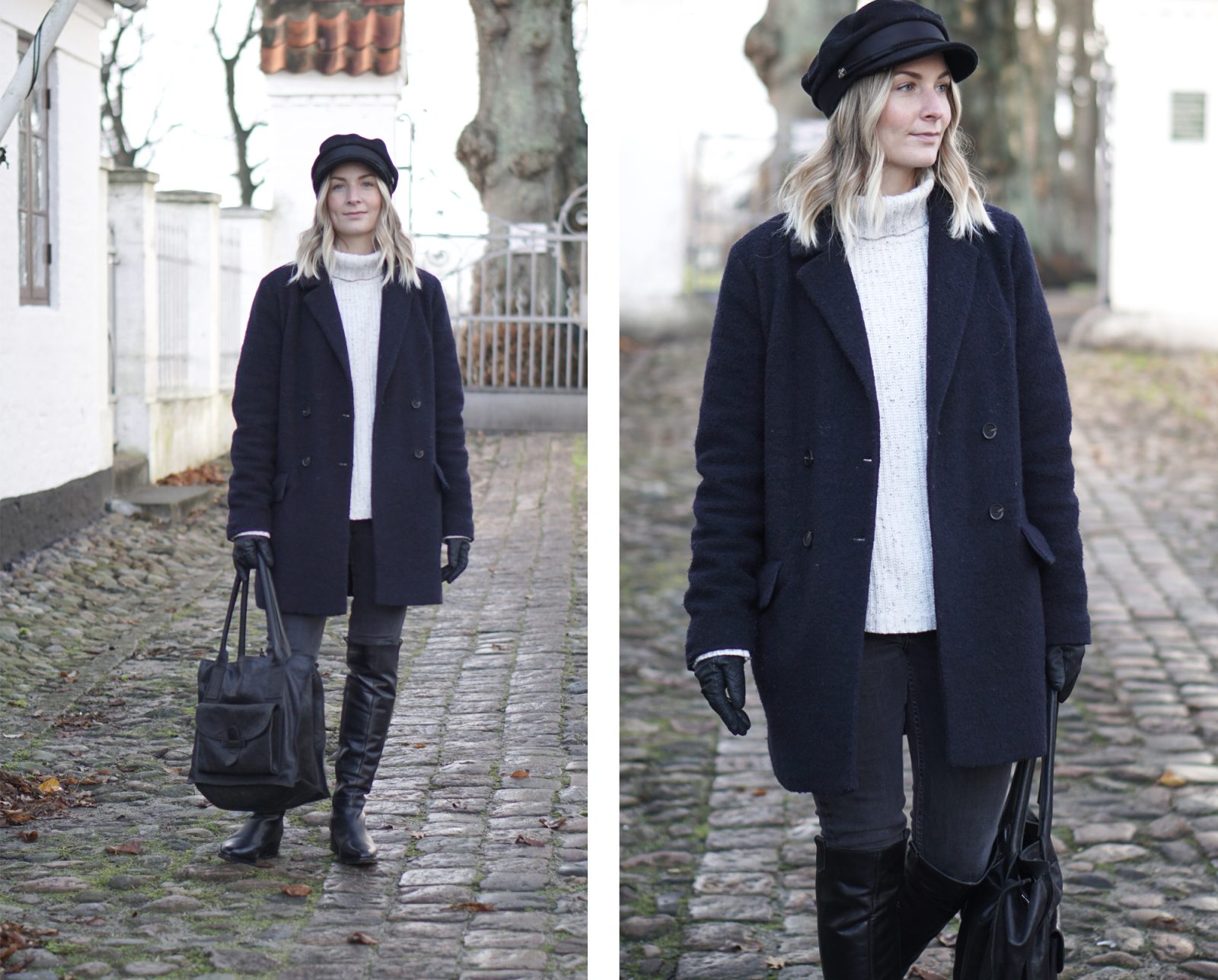 Extra knitwear. This is probably the biggest difference between my autumn capsule and my winter capsule; an entire shelf in my closet with knitwear. I hardly wear any other tops these days, so it's nice to have a bunch of different options. It's especially my rollnecks I reach for most days when it's really cold – they are great for layering underneath a wool coat, which can be hard to stay warm in on those very freezing days.
A proper winter coat. Of course I've pulled back out my down parka again this year. I use it every time I take the dog for a walk, but I also think it's kind of cool for a more pulled together look when I'm running errands. It is hands down the only coat I have that can truly keep my warm when it starts to freeze. Seriously, I can almost wear just a tee underneath and it still keeps me warm.
Warm boots. My knee high boots from Asos have been on quite a break; I bought them 3-4 years ago, and I didn't pull them out last winter. However I thought it was about time to bring them back this year, because I've fallen in love anew with the ol' knee high boot. This type of boot is everywhere this season, so it's pretty cool that I've just held on to mine. Besides that I've also added my more practical boots from last year, that is gonna keep my feet warm once the snow falls (if it falls this year…). I probably wont be wearing these boots on the days where I'm going to the office, but on casual days and during weekends I'll be wearing them a lot.
Ekstra striktrøjer. Dette er nok den største forskel på min efterårsgarderobe og så min vintergarderobe; en hel hylde fyldt med striktrøjer. Jeg går stort set ikke i andet p.t., så derfor er det dejligt at have lidt forskelligt, at vælge imellem. Det er især mine rullekraver jeg rækker ud efter de dage hvor det er virkelig koldt – de er gode indenunder en uldfrakke, der jo ikke er nær så varm som min dun parka.
En rigtig vinterfrakke. Og nu vi er ved emnet dun parka, så har jeg selvfølgelig (igen i år) taget denne frakke i brug. Jeg bruger den flittigt hver gang hunden skal luftes, men jeg synes også den er ret sej til en tur ind til byen. Den er den eneste frakke, som kan holde mig rigtig varm her om vinteren. Seriøst, jeg kan næsten nøjes med en t-shirt indenunder, så holder den mig stadig varm.
Varme støvler. Mine knælange støvler fra Asos ovenfor har fået sig en seriøs pause; jeg købte dem for 3-4 år siden, og brugte dem slet ikke sidste vinter. Nu har jeg dog hevet dem frem, fordi jeg er blevet forelsket i dem igen. Knælange støvler er overalt p.t., og så er det jo fedt jeg har gemt mine så længe. Udover det så har jeg også tilføjet mine praktiske vinterstøvler fra sidste år, der kan holde mine fødder varme når der falder sne (hvis den da kommer i år…). Jeg kommer nok ikke til at gå i disse støvler når jeg skal møde på kontoret, men på afslappede dage og i weekenderne kommer jeg helt sikkert til. at bruge dem.