Usually I'm not one to be late sharing my capsules with you guys, but this time around I've had trouble getting things done in time. Life happens! Anyway, I'm ready now to reveal my winter capsule, and I'm stoked about the result. Seriously, for a former designer like me, making capsule wardrobes is like designing my own little collection every time the seasons change, haha! As you might remember from my autumn capsule, I've been digging this more edgy style universe a lot and this time around my capsule almost have elements of grunge in it. It's probably because of the pops of red and leopard, which simply gives my basic wardrobe a breath of fresh air. By the way, how odd is it that we're in the middle of December and we've not had any snow whatsoever yet, plus we really haven't had many frosty days in general either. The weather has been pretty mild and also kind of wishy-washy in Denmark lately, which never makes getting dressed easier. Layers and a foldable umbrella in your purse are the ultimate lifesavers this time of year! Anyway, enough with the (pointless) blabbering – let's dig into my winter capsule.
…
Jeg plejer at være klar nærmest på klokkeslettet til, at dele mine capsules med jer, men min vinter capsule har været lidt forsinket denne gang. Life happens! Nu er jeg dog endelig klar til, at dele den med jer og jeg er super tilfreds med resultatet. Seriøst, for en forhenværende designer som mig, så er det altså lidt som at få lov til at designe sin egen kollektion hver gang sæsonen skifter, haha! Som I måske kan huske fra min efterårs capsule, så er jeg dykket endnu længere ned i det lidt rå univers, og jeg vil sige min vinter capsule nærmest har elementer af grunge i sig. Det skyldes nok dels de røde farver og også min kærlighed til leopard print, som puster nyt liv i min basis garderobe så fint. Jeg synes desuden det er skørt, at vi er midt i December, vi har ikke set skyggen af sne og frost har vi heller ikke haft ret meget af. Så indtil nu har det været ret mildt og blandet i vejret, hvilket aldrig gør det super nemt at klæde sig på. Lag-på-lag og en sammenklappelig paraply i tasken er vejen frem på denne årstid! Nå, ikke mere (ligegyldig) snak – lad os gennemgå min vinter capsule.
* This post contains adlinks within text. Please read my disclaimer for products linked HERE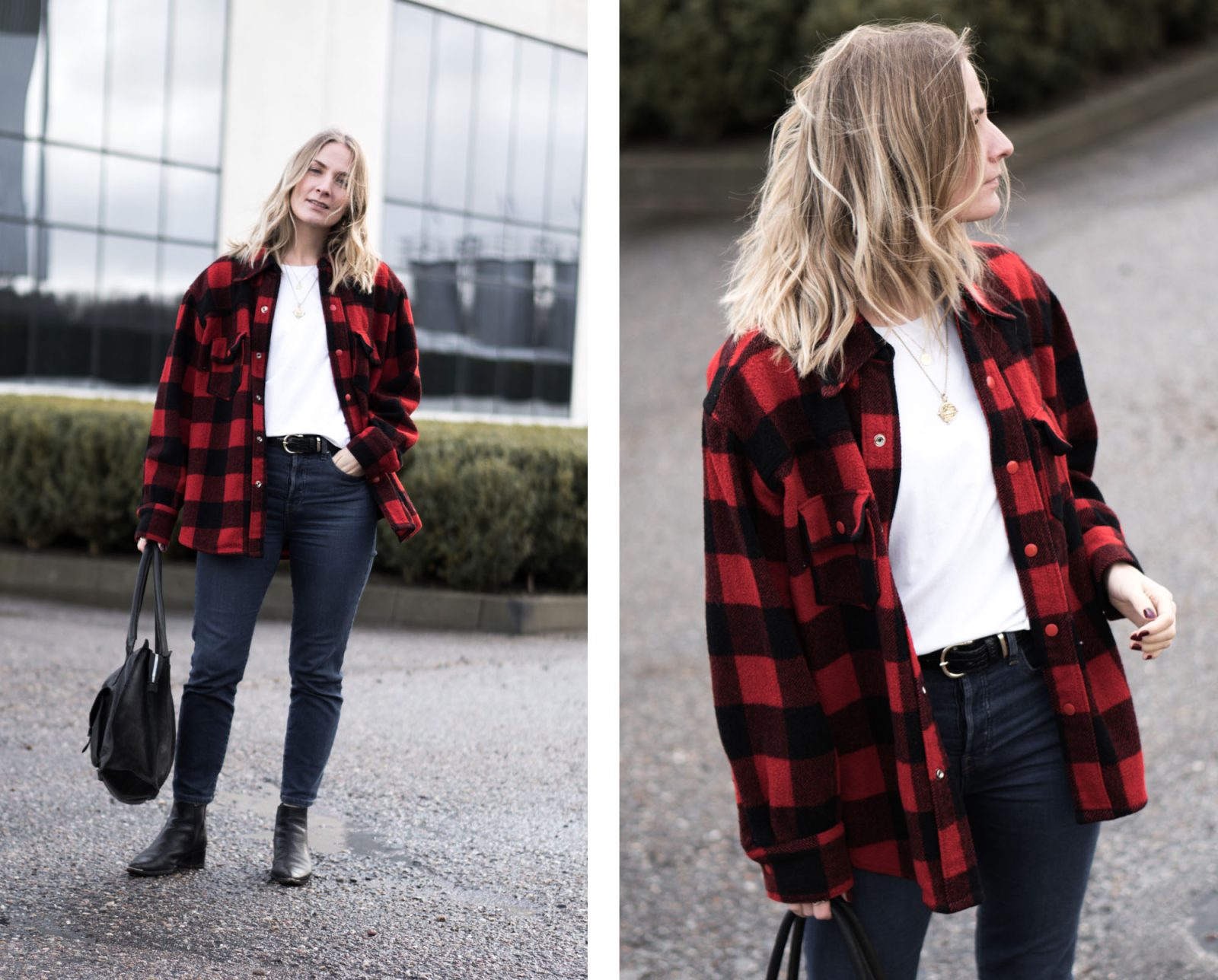 jeans – Everlane / tee – Organic Basics / flannel jacket – Beyond Retro / boots – secondhand Acne / bag – Adax
Shopping my own wardrobe
I've obviously stored away a bunch of items from my autumn capsule, and then added a bunch of winter faves instead – nothing new there. I've actually decided to ditch the green/brown colours I had in my previous capsule completely, and I'm keeping things muted with a pop of red and beige this time around instead. It works really well, and I like that things are more calm when there are not too many colours to choose from. Det striped jumper is from People Tree, I don't remember if it's from last year or the year before, but anyway I'm really happy to be reunited with it again. It's made from 100% organic cotton, and it's just so soft and comfy. I especially like wearing it underneath blazers. I'm all about those stripes as many of you guys are aware of.
Another jumper that I've pulled out from storage is the super old rollneck jumper fra H&M that I've had for years and years now. Some of you might recognise it from last winter. It's one of those items I tend to pull out every single winter – it's the warmest jumper I have, and I also only ever wear it on the days where it's really cold outside. I've never been the biggest fan of chunky jumpers in 100% wool like this one; I find them itchy and way, way too warm. I do also have to wear a thin, long-sleeved tee underneath this jumper (like this one from Organic Basics) to protect my rather sensitive skin, which only makes it even warmer to wear. When all this is said though, it is a real life-saver on those really cold days. I love combining it with skinny jeans, edgy boots and a nice wool coat. Besides these two jumpers theres not really anything else I've pulled out from storage. Instead I've chosen to keep many of the same items I had in my autumn capsule out from storage, and then I've stored another little handful away like I mentioned before. So I guess my winter capsule is a little "same but different" compared to autumn.
…
Jeg har gemt et par items fra min efterårs capsule væk og taget nogle gamle favoritter frem i stedet, helt ligesom jeg plejer. Faktisk har jeg valgt, at droppe de grønne/brune nuancer denne sæson og pakket dem væk til en anden gang, så jeg holder farverne monokrome og med et pift af rød og beige denne gang. Jeg synes det fungerer SÅ godt, og jeg kan godt lide at der generelt er ro på farverne på denne måde. Den stribede striktrøje er fra People Tree, kan faktisk ikke huske om den er fra sidste år eller året inden, men den glæder jeg mig ihvertfald til at tage i brug igen. Den er lavet i 100% økologisk bomuld, og den er bare lækker at have på – også inden under fx blazere. Jeg er jo tosset med striber i alle afskygninger, som mange af jer ved!
En anden striktrøje jeg har taget frem fra gemmerne er en ældgammel rullekravestrik i uld fra H&M, som jeg har haft i flere år. Nogle af jer kan måske genkende den fra sidste vinter. Ihvertfald så er den én af de ting, som jeg nærmest taget frem hver evig eneste vinter – det er den varmeste striktrøje jeg har, og jeg har den altså også kun på de dage, hvor det virkelig bider udenfor. Jeg har aldrig været specielt god til tunge striktrøjer i ren uld; jeg synes de kradser og jeg får det ofte alt, alt for varmt i dem. Denne skal jeg også have en tynd, langærmet t-shirt på indenunder (fx DENNE fra Organic Basics) så den ikke irriterer min følsomme hud, hvilket gør den endnu varmere at have på. Når alt dette er sagt, så er den altså en life-saver især netop på de dage, hvor det er super koldt udenfor. Jeg er desuden kæmpe fan af kombinationen chunky striktrøje, skinny jeans, et par rå støvler og en pæn uldfrakke. Udover disse to striktrøjer er der faktisk ikke andet jeg har fundet frem – derimod har jeg valgt at beholde mange af de samme items i min garderobe, som jeg havde fremme gennem efteråret og så har jeg som sagt pakket en håndfuld items væk også. Så min garderobe er lidt "same but different" i forhold til hvordan den så ud i efteråret.
The new additions
I've invested in 2 new items for my winter capsule. One thing is a red beanie, that I've been dreaming about since last winter. I stumbled upon THIS beanie from Armed Angels made in a organic cotton/KbT wool mix, and it's so cool! It's actually from the men's department, but that doesn't really matter for an item like this. It's a nice and simple way of adding a pop of colour to my looks.
Besides the beanie I fell in love with THIS look a little while back. I've been on the hunt for a similar shirt/jacket ever since, and when I was in London last week (one of the best places on the planet to shop secondhand) I decided to hit Beyond Retro, to see if they had something similar. And they did! Many of the vintage shops in London have this grunge/90's vibes style reference throughout their stock, so it was perfect. I'm considering chopping a few cm's of the length but for now I'll keep it as is, I'm just so excited about this find. I've actually borrowed the picture of the jacket on my overview above from Anine Bing's webshop – if you like her version of the flannel jacket more, then it's available HERE. I want to see if I can style it with my light puffer from Everlane underneath on the milder winter days, and otherwise I plan to wear it as a substitute for blazers or cardigans. It's something else for me, but I just think it's so cool!
So there you have it; my winter capsule this year – don't forget to tag along over on Instagram to see how I style everything. Have you guys started your winter capsules yes, and what style references and colours are you digging this year?
…
Jeg har investeret i 2 nye items til min vinter capsule. Den ene ting er en knaldrød hue, som jeg faktisk har drømt om siden sidste vinter. Jeg faldt over DENNE hue fra Armed Angels i økologisk bomuld/KbT uld mix, og den er simpelthen så fin! Faktisk er den fra herreafdelingen, men det er jo ligegyldigt. I hvertfald så er det en god og simpel måde at få inkorporeret en lille smule farve på, og give mine sædvanlige favorit looks et friskt pust.
Udover huen så forelskede jeg mig for noget tid siden hovedkuls i DETTE look. Jeg har siden været på udkig efter en lignende skjorte/jakke, og da jeg var i London sidste uge (ét af de bedste steder i verden at shoppe genbrug) så begav jeg mig ind i Beyond Retro, for at se om jeg ikke kunne finde noget der lignede. Og det kunne jeg! Mange af vintage butikkere i London kører jo meget den her lidt grunge/90'er-agtige vibe så det var helt perfekt. Jeg overvejer lidt, om jeg skal lægge den op så den bliver lidt mere boxy og cropped, men for nu er jeg bare lykkelig over mit fund. Faktisk har jeg lånt billedet af jakken på mit overview ovenfor fra netop Anine Bing's webshop, fordi den ligner mit secondhand fund så meget – hvis du er mere interesseret i hendes version kan den findes HER. Jeg vil se om jeg kan style den med min tynde dunjakke fra Everlane indenunder til de mildere vinterdage, og ellers har jeg tænkt mig at bruge den som alternativ til blazere og cardigans. Den er lidt noget andet end det jeg plejer at gå efter, men jeg synes bare den er mega sej!
Så det er altså sådan min vinter capsule ser ud i år – husk at følg med ovre på Instagram, hvis du vil se hvordan jeg styler mine vinter outfits. Er I begyndt på jeres vinter capsules, og hvilke stilarter og farver er I inspireret af denne gang?