I takt med, at jeg har forsøgt at indskrænke mit forbrug af tøj, så er der helt naturligt også sket noget på beauty-fronten. Da vi lavede en omgang grundig home-declutter tilbage i marts, ryddede jeg også ud i mine skønhedsprodukter, så jeg nu kun har dét tilbage, som jeg rent faktisk bruger. Men det er ikke nogen hemmelighed, at når jeg indimellem jeg får brugt det sidste af især produkter til ansigtspleje, så tøver jeg ikke med at prøve noget nyt. Det er blevet vigtigt for mig, at gå efter så få produkter som muligt, helst uden parfume og andre unødvendige tilsætninger og også helst økologisk. Så altså bare så naturligt og simpelt som muligt. Jeg har alle dage sat pris på parfumefri produkter, så det er der såmænd ikke rigtig noget nyt i. Det er dog vigtigt for mig, at de produkter jeg bruger har en effekt selvom de er skånsomme. Jeg har lidt af ret svær (cystisk) akne helt indtil jeg var ca. 25 og kom først problemet til livs, efter en ret skrap pillekur der varede et halvt år. Heldigvis har jeg ikke haft tilbagefald siden. Min hud er lidt en blanding af fedtet/kombineret og sensitiv. Sidstnævnte er også grunden til, at jeg vælger så nænsomme produkter som muligt, men derfor skal de selvfølgelig stadig gøre noget godt for min hud!
Lige nu bruger jeg en plejeserie fra Derma. Den kan købes i de fleste danske supermarkeder, den er fri for parfume og parabener og så er den økologisk. Så den var jeg nødt til at prøve, at købe med hjem for et par måneder tilbage! Jeg har netop købt creme nummer to, da jeg løb tør og jeg er altså rigtig glad for den her serie. Sæben og skin tonic'en er begge enormt drøje i brug, der var ca. halvdelen tilbage da jeg havde brugt det sidste creme. Det eneste minus der somme tider er ved parfumefri produkter er lugten (eller mangel på samme) – den generer slet ikke mig, men cremen lugter altså lidt spøjst lige når man smører den på. Sådan lidt af ingenting men også lidt underligt. Det ved jeg, der er mange kvinder der ikke bryder sig om. Men altså, det forsvinder hurtigt, og jeg synes det er en god creme. Den fedter ikke og den gør hvad den skal til en overkommelig pris. Men det er ikke et luksus-produkt whatsoever, så det skal man altså lige være indstillet på.
/ As I have learned to narrow down my consumption of clothes, I've also come a long way when it comes to beauty products. When we made a thorough home-declutter back in March, I also cleaned up my beauty products, so I only have the things I actually enjoy using left. But it's no secret that when I do run out of facial care products, I do not hesitate to try something new every once in a while. It has become important for me to go for as few products as possible, preferably without fragrance and other unnecessary additions, and preferably also organic. So, just as natural and simple as possible. I have appreciated fragrance-free products for a very long time, so it's not really something new. It's important to me, however, that the products I use have an effect. I have had quite a severe (cystic) acne up until I was about 25 and the problem first came to life after a rather harsh cure with Accutane. Fortunately, I have not had a relapse since. My skin is probably a mix between oily/combined and sensitive. The latter is also the reason why I choose as mild products as possible.
Right now I use a care series from Derma, which is a danish brand (I don't really know any international dupes for such a product, but maybe any of you can tip me? Maybe Weleda is a good dupe, but I'm not sure!) . It can be purchased in most Danish supermarkets, it is free of fragrance and parabens and it is organic. So, I had to try and purchase it a couple of months back! I have just purchased face cream number two when I ran out and I'm really happy with this series. The only thing that could kind of scare some people off when it comes to perfume-free products is the smell (or lack of the same) – it does not bother me at all, but the cream smells a bit weird just when it is lubricated. Like a bit of nothing but also a little weird. But it disappears quickly after you've applied it and I think it's a good cream. It doesn't feel greasy on my skin and it does what it's supposed to do at a reasonable price. It's not a luxurious product whatsoever, so just be aware of that if that means something to you.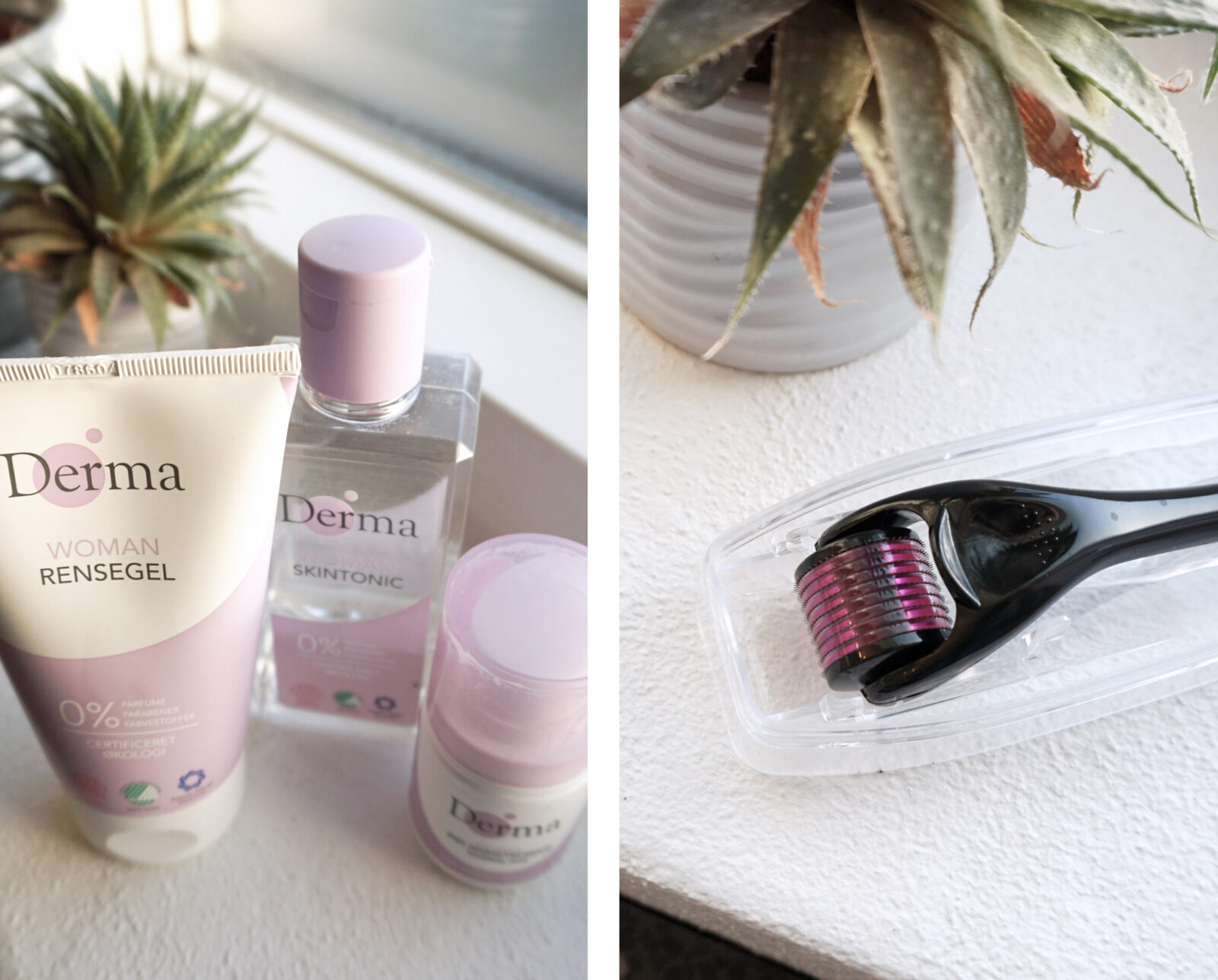 Jeg er ikke én af de kvinder, der smører smører forskellige serummer og ansigtscremer på af én omgang. Det kan godt være det er en fejl, og måske lyder jeg sådan lidt "hellig", men helt ærligt så bryder jeg mig ikke om, at smøre så mange ting i ansigtet af én omgang. Da jeg før nævnte at min hud er sensitiv, så mener jeg altså også, at jeg selv som person er ret sensitiv. Både når det kommer til bl.a. støj/lyde, lugte og altså her; følelsen af at have 5 lag creme på i ansigtet. Jeg kan slet ikke have det, haha! Så igen vil jeg helst holde min hudplejerutine så enkel som mulig. Måske lyder det lidt kliché, men jeg tror altså i høj grad på, at skønhed kommer indefra. Så sund kost, masser af vand og motion kan gøre rigtig meget! Og jeg kan da også tydeligt se på min hud, hvis jeg i en periode har glemt, at passe ordentligt på mig selv og spist lidt for meget junk… just saying!
Jeg gør dog lidt ekstra et par gange om ugen, for at holde min hud pæn. Jeg bruger ca. 1 gang i ugen en dermaroller. Jeg købte den for ca. en måned siden, og jeg er vild med dét, den kan! Jeg synes oprigtig talt det er som om, jeg får færre break-outs og desuden synes jeg min hud ser mere glat ud når jeg har brugt den. Og lad dig ikke skræmme af denne rulle med "nåle" på. Der er altså ikke noget drabeligt ved den overhovedet, så længe du anvender den med forsigtighed. Vi snakker ikke skarpe knappenåle der får din hud til at bløde (ikke på den jeg har ihvertfald). Nålene prikker lidt, men det gør ikke ondt. Når jeg har brugt min dermaroller så desinficerer jeg den med en desinficeringsspray, da det er MEGET vigtigt, at man får dræbt alle bakterier på den efter brug. Af samme årsag må man aldrig dele sin dermaroller med andre, og man må heller ikke bruge den på fx bumser der er betændte. Din hud skal også være ren når du bruger den. Når jeg har brugt den, så afslutter jeg med skintonic og påfører min creme fra Derma. Her kunne jeg dog godt finde på, at finde en god serum at smøre på inden min almindelige creme også, bare de dage jeg bruger min dermaroller. Dét der sker når man bruger en dermaroller er, at huden faktisk bliver en lille smule "beskadiget" og altså provokeres til, at regenerere og på den måde lave nye hudceller. Og derfor vil mange opleve at huden føles glattere. Jeg har købt min i Normal, men den kan også købes HER og HER. Min hud er overhovedet ikke perfekt, men den hudpleje rutine jeg har lige nu passer mig rigtig godt, og jeg synes alt i alt min hud ser pæn ud de fleste dage!
/ I'm not one of the those women who applies tons of different serums and face creams every day. This may be a total mistake but frankly, I dont like to apply layer after layer of cream on my face. Since I mentioned before that my skin is sensitive, I also mean that I myself as a person is quite sensitive. Both when it comes to things like noises, smells and like here; the feeling of having 5 layers of cream on my face. I seriously dont like it, I'm not kidding. Haha! I like to keep my skin care routine as simple as possible. Maybe it sounds a little bit cliché, but I really also think that beauty comes from within. So healthy diet, lots of water and exercise can do a lot of magic! I notice it on my skin I have forgotten to take care of myself and ate a little too much junk for a while… just saying!
However, I do a little extra a couple of times a week to keep my skin looking good. I like to use my dermaroller once a week. I bought it like a month ago or so, and I love the effect it has on my skin! I sincerely think it's as if I get fewer breakouts and I also think my skin looks more smooth when I've used it. And dont let the "needles" on the dermaroller scare you off. There's nothing macabre about it at all, as long as you use it with caution. It's not like sharp pins that make your skin bleed (not the one I have at least). It prickles your skin a little bit during and after, but it doesn't hurt. Once I have used my dermaroller, I disinfect it with a disinfectant spray, as it is very important to kill all bacteria on it after using it. For the same reason, never share your dermaroller with others, nor do you use it for example on pimples that are inflamed. Your skin must also be clean when using it. Once I have used it, I finish with skintonic and apply my cream from Derma. Here, however, I would actually like to find a good serum to apply before my normal cream, just on the days I use my dermaroller. What happens when using a dermaroller is that the skin actually becomes a bit "damaged" and therefore it is provoked to regenerate and make new skin cells. And therefore, many will feel that the skin feels smoother. I have bought my dermaroller in a local drugstore, but it can also be purchased HERE. My skin is far from perfect, but the skincare routine I have at the moment suits me so well and overall I like the way it makes my skin look.