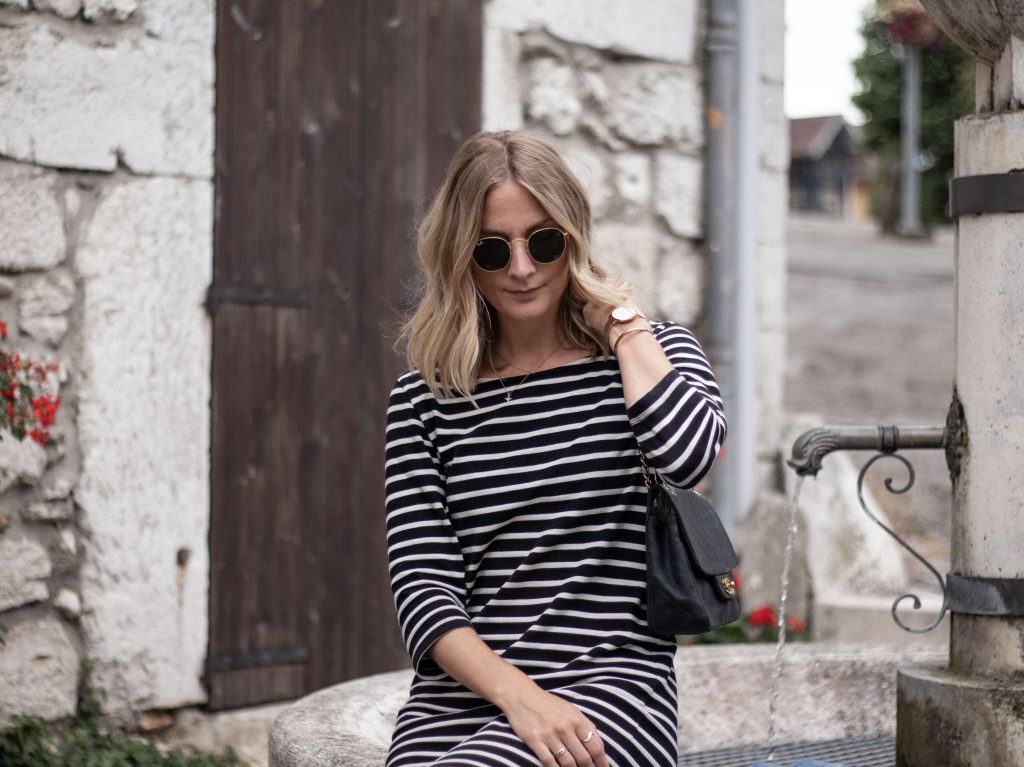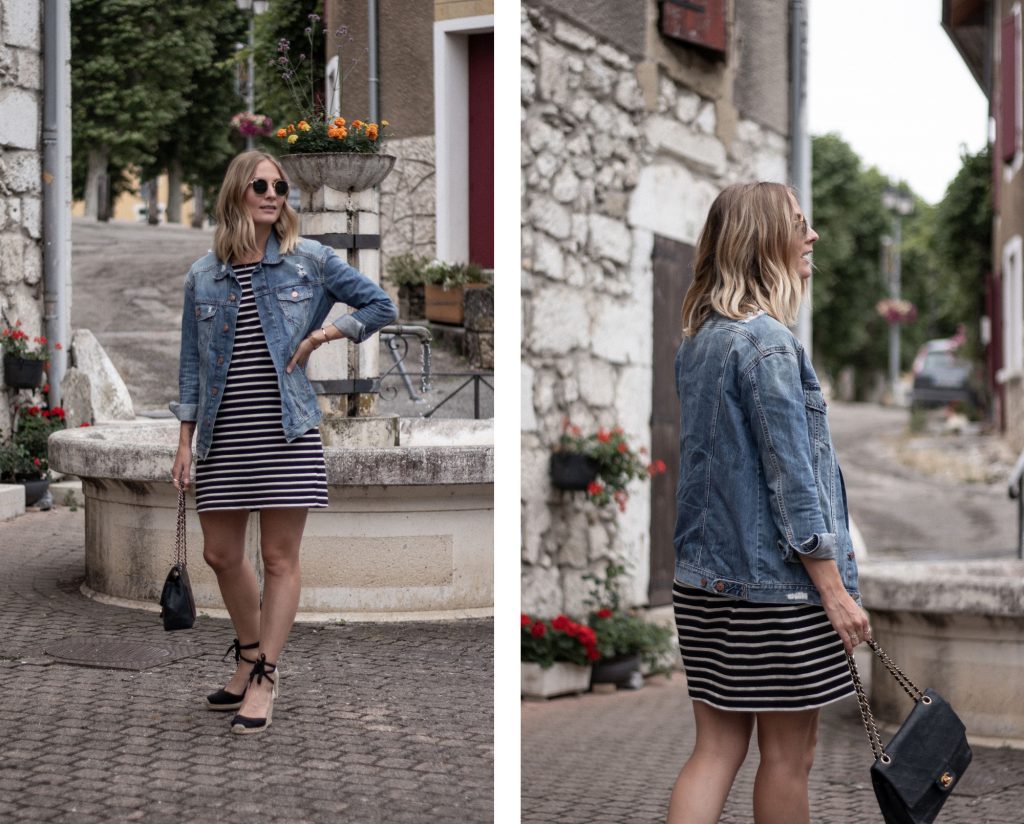 Even though I'm at a place where I kind of refuse to let my pregnancy stand too much in the way of my personal style, my changing body and growing belly will inevitably have some sort of an impact on what I wear through this specific part and time of my life. I no longer fit my favourite jeans and pants, but luckily most of my clothes still fit and without putting too much pressure on myself (because some things you just have no control over, such as a changing body through pregnancy), and I hope this will continue even post-pregnancy. Most of the jackets and tops I have in my wardrobe have a rather oversized fit, so in a way my casual style core has benefitted me a lot there. If you've got a more feminine style where you enjoy dressing in items that are more fitted to your body, you will probably have to invest in some more maternity wear though, if you wish to stick with your true style throughout. I have only bought a few things such as maternity jeans and a skirt, and everything I have found has been bought preloved. Both clothing for me and baby is all secondhand. If there's something there is A LOT of out there it is preloved maternity and baby clothes! Clothing which has often only been used in a very short amount of time and therefore it's got plenty of wear left in it still. So I highly recommend checking out secondhand options if yo wish to go down the more eco-friendly road AND save a heckload of money at the same time. Otherwise there are great sustainable brands you might want to check out too – I've linked a few of my personal faves below, both Danish and international.
…
Selvom jeg er dér, hvor jeg ikke vil lade min graviditet begrænse mig alt for meget når det kommer til personlig stil, så er der naturligvis nogle ting som i denne afgrænsede periode ikke er helt som de plejer at være. Min krop har ændret sig, og jeg kan ikke længere passe mine yndlings jeans og bukser, grundet den fine bule jeg her halvvejs igennem graviditeten har anlagt mig på maven. Men heldigvis passer det meste af mit tøj stadig, og uden at lægge for meget pres på mig selv og min krop (for nogle ting er man bare ikke herre over), så håber jeg da at det for bliver sådan – også efter graviditeten. De fleste af mine overdele og jakker har et ret løst og oversized fit, så der er min afslappede stilkerne jo bare kommet mig til gode. Har man fx en mere feminin stil hvor stramme toppe og kjoler er hvad man har det bedst i, så kan man nok ikke helt undgå, at skulle ud og investere i lidt mere graviditetstøj end de få bukser og nederdele jeg personligt har købt. Jeg har kun købt brugt tøj (både til mig selv og baby), for er der noget der findes latterligt meget af derude, så er det brugt tøj af dén kaliber! Tøj der kun er brugt i en ganske kort periode og ikke fejler noget. Så det kan klart anbefales, hvis man ønsker et mere budget- og øko-venligt alternativ (app'en Reshopper er iøvrigt genial til dette formål). Ellers findes der bestemt nogle gode, bæredygtige brands man også kan støtte. Tjek fx nogle af disse:

Boob (worldwide)
Purløg & Persille (Denmark)
Naturebaby (Denmark)
Naturebaby (worldwide)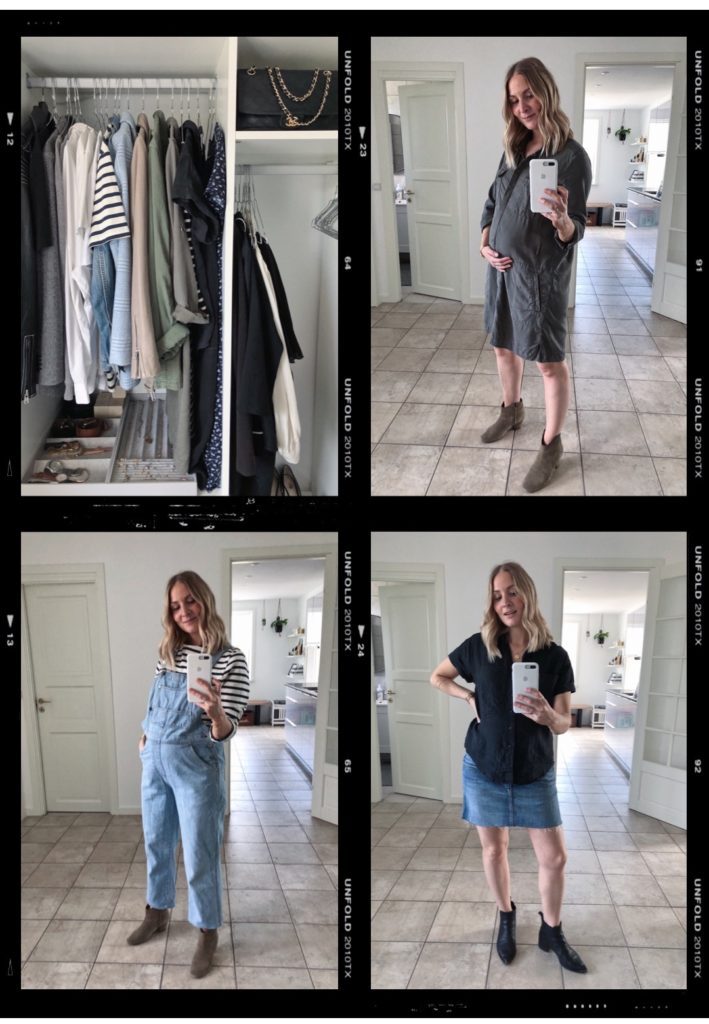 When it comes to the Danish summer you never know what you're going to get, so although I dream to wear loose dresses and cool boots all through the season I'm well aware that this will probably only be possible some parts of the time. Well, unless this summer will be like the hot and dry one we had back in 2018 of course.
I've stood my ground pretty firmly when it comes to "not being a dress-person" (which I generally am not) – but I have to say that I'm hooked on this piece of clothing especially this summer. Again, it's probably because of my growing bump, because a comfy dress you can easily throw on over your head has to be one of the most comfortable kinds of clothing you can wear through the hot summer months, especially when you are also battling extra body weight and a lowered lung capacity through pregnancy. Where I struggle most with dresses is probably through the autumn and winter season, where you often need to wear them with tights to stay warm. Now me and tights is a whole other story. We will never really get along, unless we really have to. To be quite honest I think they are one of the most uncomfortable pieces of clothing you can wear haha! So although many of you have recommended me to wear dresses even after baby's arrival this winter (with all the best intentions of course), it will probably be other alternatives I'm going to go for. 😉
…
Den danske sommer er altid en usikker størrelse, så selvom jeg drømmer om at iklæde mig behagelige, løse kjoler med cool støvler hele sæsonen så ved jeg også, at det kun bliver til noget en brøkdel af tiden. Ja, medmindre der venter os en sommer som dén vi havde i 2018 selvfølgelig.
Jeg har hårdnakket holdt fast i, at jeg bare ikke er kjoletypen (og det er jeg generelt heller ikke) – men jeg må sige, at jeg er super hooked på dem denne sommer. Igen skyldes det nok primært min babybule, for en behagelig kjole man bare lige trækker over hovedet må da være noget af det allermest behagelige gennem de varme sommermåneder, når man også render rundt med ekstra kampvægt og generelt er lidt mere fysisk udfordret end sædvanligt. Der hvor filmen knækker for mig når det kommer til både kjoler og nederdele er nok efterår og vintersæsonen, når det bliver så koldt at man er nødt til at have strømpebukser på indenunder. Mig og strømpebukser er en saga for sig. Vi bliver aldrig rigtig gode venner, medmindre det virkelig er høst nødvendigt. Jeg synes simpelthem det er én af de mest ubehagelige beklædningsgenstande der findes haha! Så selvom mange af jer af god mening har anbefalet kjoler til tiden efter babys ankomst til vinter, så bliver det nok til andre alternativer for mit vedkommende. 😉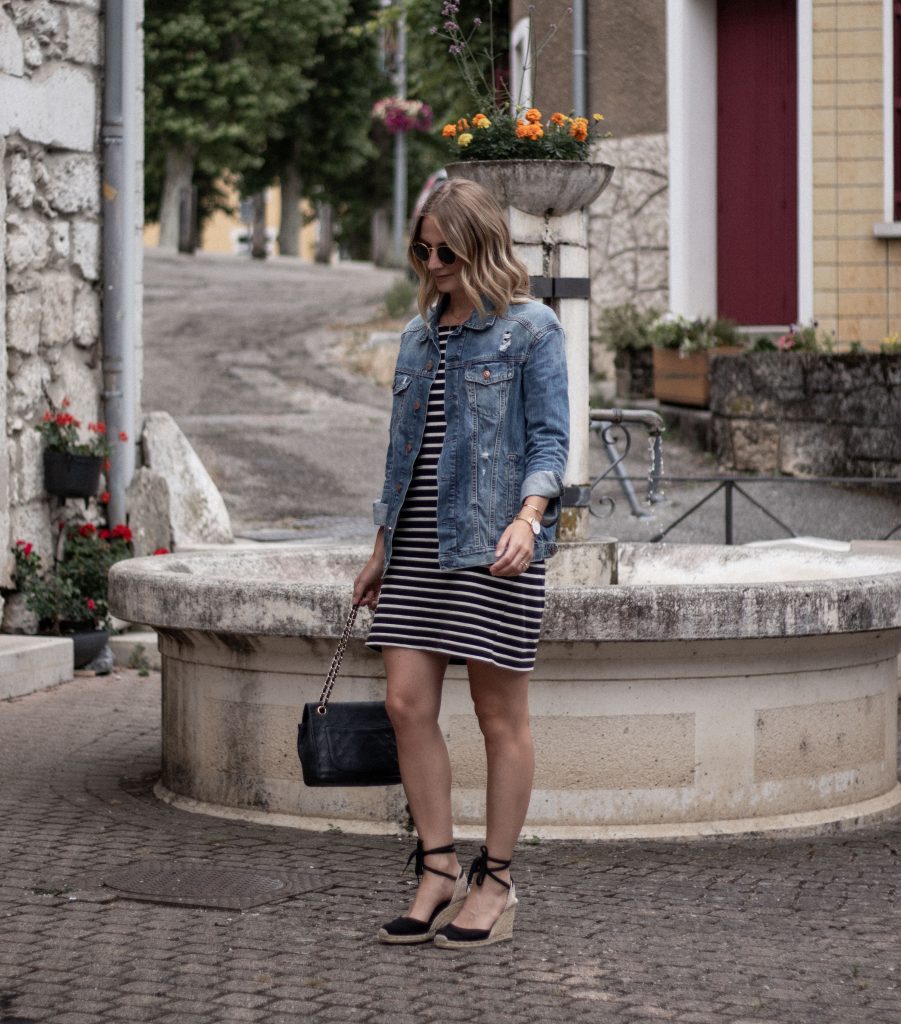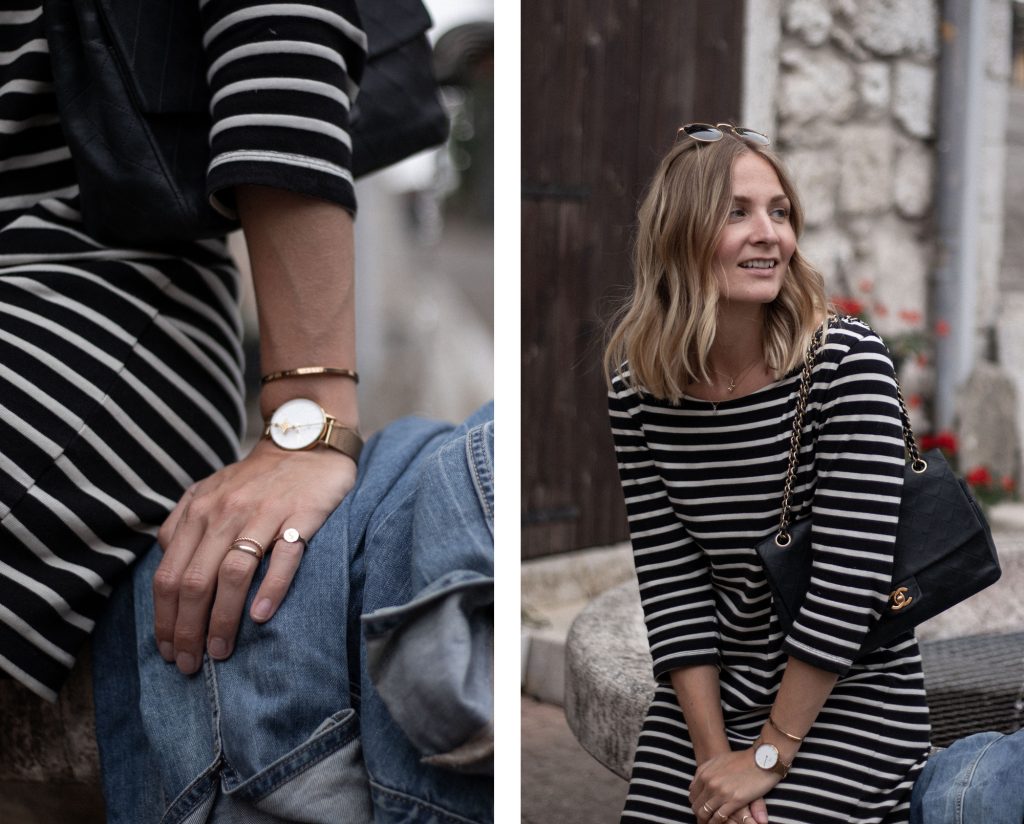 So the dresses I've added to my summer capsule are primarily casual because again – this casualness is a core factor to me when it comes to my own personal style. I'm going to give them an edgy contrast with boots, and if it's too hot for that you can always tie a denim jacket or similar around your waist, to give the dress some edginess and then wear the look with sandals instead. Also my summer wardrobe is very similar to what I was wearing before getting pregnant as well – the only difference is of course the elastic part of the waist on all my bottoms, lol.
I did a wardrobe declutter not so long ago, where I packed away all the stuff that don't fit me at the moment, and I also decided to part with a few things via Vestiaire Collective. I managed to sell most of what I put for sale, so I made two secondhand purchases in there for what I earned, both items which had been on my wishlist for a long time. One of the items I bought is a really nice utility style shirt dress from the French brand IKKS. I don't know this brand and wasn't looking for a specific brand either (I just knew it had to be secondhand), it was more the specific style and the khaki colour of the dress I had on my wishlist. The dress is, with it's straight and oversized fit, perfect both for my growing bump but also for many future seasons post-pregnancy! And it's made in TENCEL, a highly breathable and sustainable type of fabric great for the summer season. Besides the dress I purchased a pair of Isabel Marant Dicker boots, also preloved, which is a specific boot I've had on my wishlist for several years. They were priced reasonably and they are in great condition. I'm especially super keen on styling the two together… YUM. So I parted with a few mistake purchases (hear more in the decluttering video below), and instead these two lovely items moved in and I already know now they are going to be true wardrobe faves.
…
Kjolerne er holdt primært afslappede for igen – det er min primære stilkerne og det er nu engang dét jeg har det bedst i. Jeg vil give dem lidt kant og kontrast med førnævnte støvletter, og hvis det er for varmt til at dét kan lade sig gøre, så kan man altid lige binde en denimjakke eller lignende om taljen, for at give dem lidt rå kant på en anden måde og så bare hoppe i et par åbne sandaler i stedet. Udover det så ligner min sommergarderobe jo meget det jeg også gik i før jeg blev gravid – eneste forskel er selvfølgelig elastikken i maven på alt der hedder bukser og nederdele, haha.
Jeg ryddede op i garderoben for nogle uger siden, hvor jeg pakkede alt væk jeg ikke længere kan passe, og så fik jeg også solgt et par ting gennem Vestiaire Collective. For de salg jeg gjorde mig der købte jeg to ting derinde der har stået på min ønskeliste længe. Den ene ting er en super lækker brugt kjole fra et Fransk mærke der hedder IKKS. Kender det ikke, og faktisk var det også ligegyldigt for mig hvor den kom fra (bare at den var secondhand) – her var det en bestemt stil og altså den khakigrønne skjortekjole jeg var på udkig efter. Kjolen er med sit lige og oversized fit helt perfekt, både til den voksende babybule og forhåbentlig de næste mange somre! Og så er den lavet i TENCEL, som i sig selv er et rigtigt fint bæredygtigt materiale, men som også er yderst åndbart og perfekt til de varme sommermåneder. Udover kjolen købte jeg et par skønne Isabel Marant Dicker støvler i super fin stand til en god pris, som har stået på min ønskeliste i flere år. Er især super hooked på at style de to…. mums. Så ud røg et par fejlkøb (hør mere i videoen nedenfor), og ind flyttede et par ting som jeg allerede nu véd bliver en succes.
50