coat – & Other Stories (secondhand) / t-shirt – Only / jeans – Mango / boots – BiancoxCamilla Pihl (secondhand) / bag – Adax / Necklaces – Glitter (sterling silver collection)
Find similar products in the bottom of this post
/ Boy, do I love my autumn capsule already! I'm loving the classic autumn colours, and I'm just so delighted to be able to match the beautiful colours on the trees, haha! And also, it's so easy to style a classic colour palette like this, together with my very basic and monochrome items.
Nøj, hvor jeg allerede elsker min efterårs capsule! Jeg er helt vild med klassiske efterårsfarver, og fryder mig over at kunne matche de smukke farver, som træerne skifter til lige nu, haha! Det er ikke mindst nemt, at style mine meget basic looks med de fine efterårsfarver jeg har tilføjet min garderobe.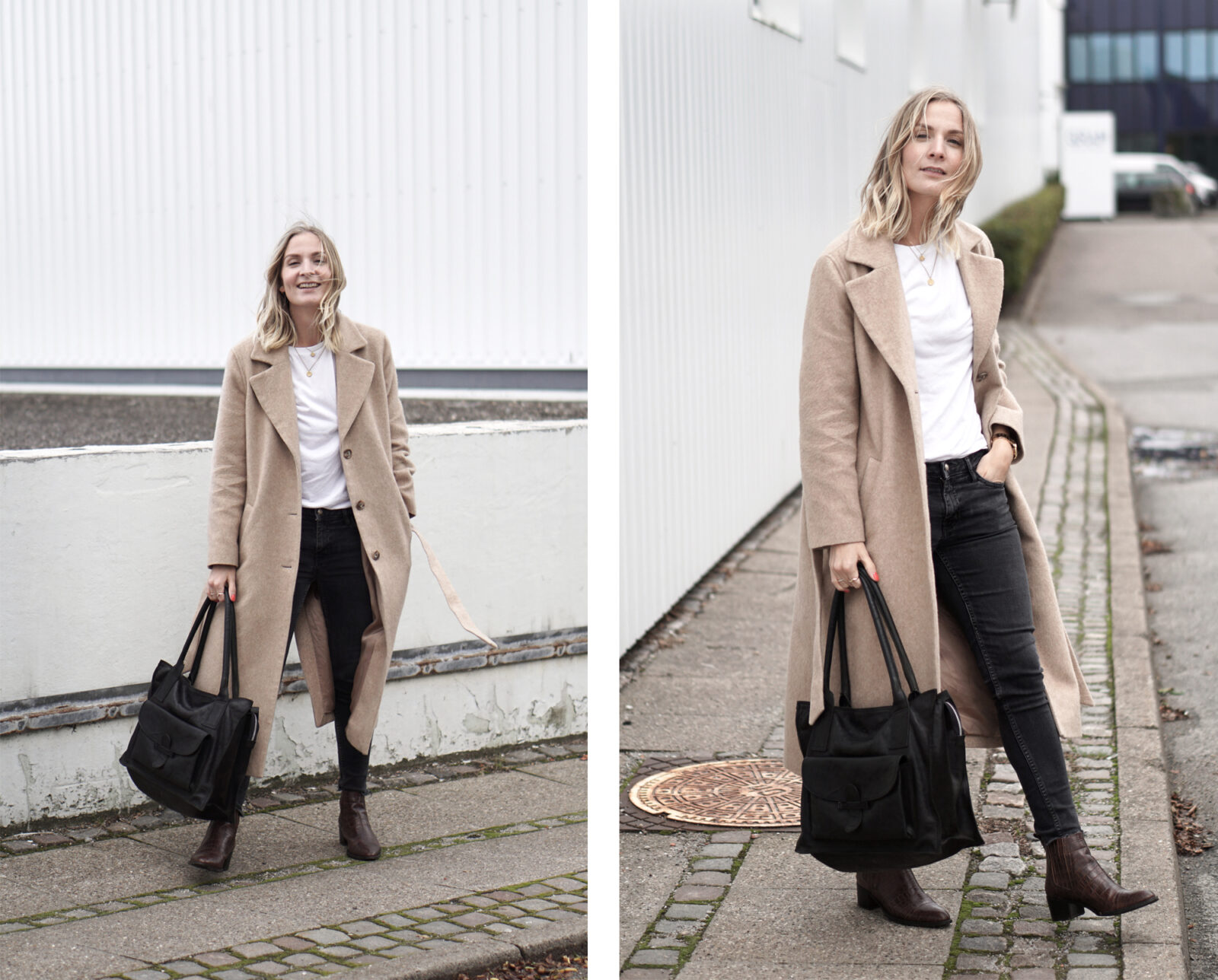 / I've been rather scared of using colours the past many years, and I know my wardrobe isn't the most colourful this season either, however it's nice to be able to choose something else than always going for the black/white/greys I have in my wardrobe. As long as you stay within a palette where the colours compliment each other, it's easy as a pie to mix everything. I'm going to put up a colour-guide on my channel very soon, because one of the bigest myths about the capsule wardrobe system is, that it has to be colourless. That's not the case at all! But some of you may have trouble finding the colours that suit you, and also styling it with each other. So that's a guide that is coming up this month. Hopefully I'll become a lot wiser too!
Jeg har i en del år været ret farveforskrækket, og selvom der jo ikke ligefrem er knald på farverne i min garderobe denne sæson, så er det nu alligevel fedt, at kunne vælge noget andet end sort/hvid/grå en gang imellem. Så længe man opererer indenfor en palette hvor farverne komplimenterer hinanden godt, så er det en no-brainer at mixe det hele på kryds og tværs. Inden længe vil jeg lægge en video ud på min YT kanal, hvor jeg snakker lidt mere om farvepaletter, da det er én af de mest misforståede myter om capsule wardrobe systemet; at den er farveløs. Det behøver den slet ikke, at være! Men nogle af jer kan måske have brug for, at få lidt hjælp til at finde de farver der passer jer bedst og ikke mindst at sammensætte dem med hinanden. Så sådan en guide laver jeg til jer her i september engang – forhåbentlig bliver jeg også selv meget klogere!
Adlinks