A look back at winter
Spring is certainly on its way to little Denmark, and I've been quite a cheerful spirit these past couple weeks. I think there's several reasons for that – I've gotten my evenings and my weekend-life back (read more here), we've sold our house, I'm still working on all my exciting projects and the weather has been amazing. Just the fact that the days are now both lighter and longer is fantastic. I'm really riding a wave of happiness right now, and I'm going to enjoy it as much as I can, haha! It's also time to say goodbye to the dark months of winter, and staying true to the tradition this post is going to be all about what I've learned style-wise over the winter, and what inspires me for spring.
Let's start with a look back at winter. We've gone through a winter season almost without any snow, which in itself is quite odd I think. It's still been dark, wet and cold as winters are, so all of my cozy jumpers have been well used this season. Last year I noted in my capsule planner, that I needed to hold back a little with the jumpers, because I had a little too many options. Just to make sure I use what I have, you know. And I definitely felt I learned something from that lesson this year. I did have a little too many coats and jackets to choose from though. Two classic wool coats, a leopard coat and a checked vintage jacket were just a little too many for me, and I ended up not using all of them half as much as I intended. So again, fewer options are often what works best for me, because I often end up reaching for the same few ones anyway. And then my light down jacket has been a lifesaver all winter, as and extra layering piece underneath my wool coats! In all I've been pretty pleased with my winter wardrobe.
This winter has for me personally been somewhat of a rollercoaster ride, and with all those things I've had on my schedule it's been a bit blurry, especially when I look back now. I feel like I've been trapped inside a bubble, but fortunately a lot of the stress I felt over the winter months has already been released – which again, really has benefitted my mood and energy level a lot. I feel like I've come a little closer back up to the surface, and what better way is there to greet spring?
…
Foråret er i dén grad på vej, og jeg har virkelig haft dejligste lykkefølelse de sidste par uger. Jeg tror der er flere årsager til netop dette – jeg har fået mine aftner og mit weekend-liv tilbage (læs mere her), vi har solgt vores hus, jeg arbejder fortsat videre på alle mine spændende projekter og så har vejret bare været fantastisk. Alene dét, at dagene allerede er meget længere og lysere er så dejligt. Jeg rider virkelig en bølge lige nu, og jeg forsøger at nyde det alt jeg kan, haha! Det er også tid til (endelig!) så småt at sige farvel til Kong Vinter, og traditionen tro så skal dette indlæg handle om hvad jeg har lært style-wise henover vinteren, og ikke mindst hvad der inspirerer mig dette forår.
Lad os starte med, at se tilbage på vinteren. Vi er gået igennem en sæson stort set uden sne, hvilket i sig selv er lidt vildt. Det har til gengæld stadig været mørkt, vådt og koldt, som vinteren jo er, så alle mine striktrøjer er blevet flittigt brugt. Sidste år noterede jeg i min capsule wardrobe planner, at jeg skulle holde lidt igen med striktrøjer fremadrettet, bare så jeg får dem allesammen brugt. Det havde jeg helt klart lært af i år! Jeg havde dog måske en anelse for meget overtøj i min vinter capsule. To klassiske uldfrakker, en leopard frakke og en ternet vintage jakke gjorde, at jeg langt fra nåede at bruge dem alle så meget som jeg gerne ville. Så igen, færre options er helt klart det bedste for mig, for jeg ender alligevel bare med, at række ud efter de samme få items igen og igen. Og så har min lette dunjakke været et hit, som ekstra lag under mine frakker denne vinter! Ellers har jeg været ganske tilfreds med min vinter capsule.
Vinteren har for mig personligt været lidt af en rutsjebanetur, og med alle de ting jeg har haft på programmet er det hele flydt lidt sammen, ihvertfald når jeg ser tilbage nu. Jeg føler lidt jeg har befundet mig en boble, men heldigvis er en del af den stress der var forbundet med det hele allerede forløst – hvilket jeg igen virkelig kan mærke på mit humør og mit energi niveau nu. Jeg er kommet lidt mere op til overfladen igen føler jeg, og det er da en skøn måde, at gå foråret i møde på.
My inspiration for the coming season
One of the biggest trends this season is "neutrals". You can get a closer look on the trends that I like this season, and also how to enjoy them more sustainably in THIS video which I published on my channel recently. The neutral colours are classic for the spring season especially, and I love this palette of white, cream, beige and brown. All the light earthy tones, which by the way are perfect for summer as well, are perfect with light blue denim which will forever be a favourite foe me as well. I'm also still pretty obsessed with leopard print, which have become somewhat of a basic print for me. Style-wise there's not really that much of a difference and I still feel like sticking with the classic, timeless style mixed with some more edgy elements. In my winter capsule I had a little pop of colour integrated with a few red styles, but I think I'll be sticking to the neutral colour theme this season. Just because I feel like going back to basics a little while again. I often feel that way when I've been going through a season with a little more colours added to my wardrobe.
…
Én af sæsonens største trends er "Neutrals". Du kan iøvrigt få et overblik over hvilke trends jeg bedst kan lide denne sæson, og ikke mindst hvordan du kan nyde dem mere bæredygtigt i DENNE video jeg udgav for nyligt. Neutrale farver er klassiske for forårssæsonen især, og jeg elsker denne farvepalette af hvid, creme, beige og brun. Alle de lyse jordfarver, hvilket iøvrigt også gør sig perfekt til sommersæsonen, og derfor for mig måske kan gøre overgangen fra forår til sommer i år lidt mere glidende. De er smukke sammen med især lys blå denim, der for evigt vil være en favorit i min garderobe også. Jeg er også stadig ret så forelsket i leopard print, der virkelig er blevet et basis print for mig. Stilmæssigt er der ikke så meget nyt; min basis garderobe er stadig pretty much den samme, som den har været de sidste mange sæsoner (med meget få ændringer, som jeg deler i part 2 af denne serie) og jeg har stadig lyst til, at holde mig til den klassiske, tidløse stil blandet med lidt rå elementer. I min vinter capsule havde jeg et lille skud farve i form af rød i min garderobe, men jeg tror faktisk at jeg holder mig helt til den neutrale farvepalette denne sæson. Bare fordi jeg har lyst til at gå lidt "back to basics" igen. Sådan har jeg det ofte når jeg har haft lidt farve inde at vende den forrige sæson.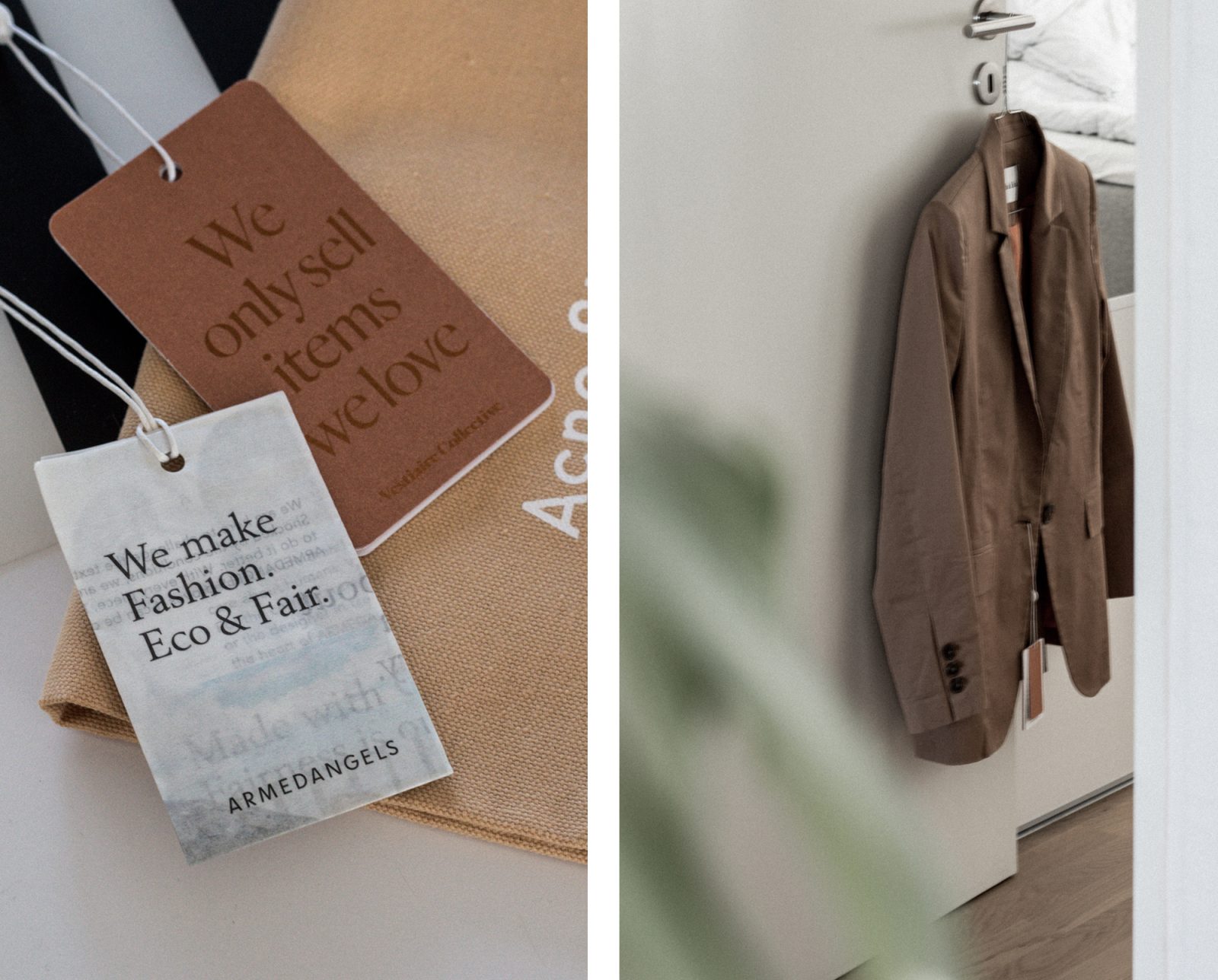 My wishlist
Right now I'm playing around with the Cladwell app as per usual when it's the start of a new season, just to get an overview of all of the possible outfits I can create with the items I'm contemplating adding to my seasonals, and then of course mixed with all my basic items as well. It's such a great tool especially if theres a new item you are dreaming about adding to your wardrobe, because then you can make sure you like the outfit combos that can be made with this particular item. I've already but a few new spring capsule items (all secondhand!), but I'm not going to fully reveal what they are. I'll keep you hanging until part 2 of this series 😉 Nontheless I've had a few items on my wishlist which match the inspiration from above. And then of course I've been going through my storage to be reunited with old faves as well. My leopard flats (which I've been digging out every spring for the past 3 years now), my black linen shirt with short sleeves from last year and my brown loafers from Everlane, which I've been so excited to bring back into the game.
Stay tuned for part 2 in this series, which will be live within the next 1-2 weeks. Can't wait to share the final result with you! Until then I'm sure I'll already start posting outfits with my new spring wardrobe additions from next week over on my Instagram, so do make sure to come say "hi" over there as well.
…
Lige nu leger jeg lidt rundt med Cladwell app'en som jeg plejer især ved starten af en ny sæson, for at få et overblik over hvilke mulige outfits jeg kan sammensætte – både med min basisgarderobe og så de sæsonbaserede items, som jeg gerne vil have med i min spring capsule. Det er især et godt værktøj, hvis der er noget nyt man går og drømmer om, at tilføje sin garderobe, for så kan man få et bedre overblik over, om man virkelig kan se sig selv i de outfits hvor det pågældende stykke tøj indgår. Jeg har allerede købt et par enkelte items (udelukkende secondhand!) til min forårsgarderobe, men jeg vil endnu ikke afsløre hvad det er. Det må I vente med at se til part 2 😉 Ihverfald så har jeg naturligvis haft et par items på listen, som stemmer overens med inspirationen ovenfor. Jeg har selvfølgelig også fundet et par favoritter frem fra sidste år. Mine leopard ballerinaer (som har været en fast del af mine forårs- og sommer capsules de sidste 3 år efterhånden), min sorte hør skjorte med korte ærmer fra sidste år, og ikke mindst mine brune loafers fra Everlane, som jeg har glædet mig til at blive genforenet med igen.
Glæd jer til del to af denne spring capsule serie, som jeg lægger op om 1-2 uger. Glæder mig til at dele det endelige resultat med jer! Indtil da kommer jeg nok allerede til at lægge outfit billeder med de nye items op på instagram fra næste uge, så sørg da endelig lige for at sige "hej" derovre også.