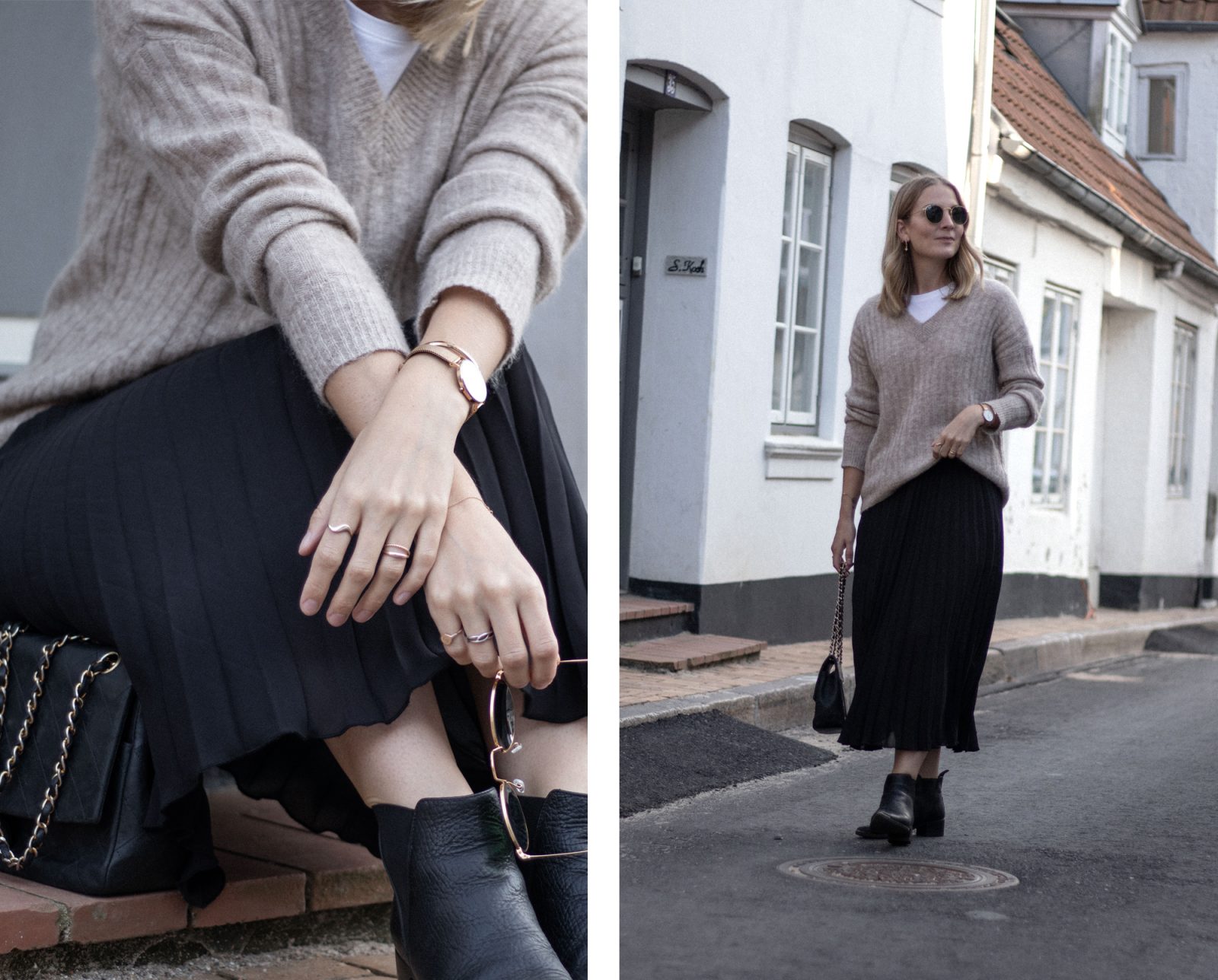 As you guys might remember from the overview of my autumn capsule, I've added this skirt to my everyday wardrobe this year. It's been part of my occasion wear capsule for some time because on a daily basis, I'm just not that keen on dresses and skirts (what a shocker, I know haha). Especially not this type, where the fabric is so light and when it's this length too. I often feel a bit too "fancy" when wearing dresses and skirts like this one, unless I'm attending some form of a party like a wedding where I'd style it with vintage silver pumps and a silk camisole (like HERE). I got the skirt from a friend, but I've linked some similar ones below – otherwise I know these are often available in charity shops too.
In fact I remember my grandmother wearing only skirts like these, before she moved to the nursery home. I particularly remember a bright pink one she used to wear all the time and she rarely wore pants back then. Sadly she past away recently, so with this outfit I'm sending her an extra loving thought <3
…
Som I nok kan huske på min oversigt over min efterårs capsule, så har jeg i år tilføjet denne nederdel til min garderobe. Den har længe været en del af min fest-capsule, for til hverdag er jeg generelt bare ikke særlig god til, at gå i nederdele og kjole (chok, I know haha). Især ikke af denne type, hvor stoffet er helt let og når den er så lang som denne. Jeg føler mig ofte lidt for "pyntet" og lidt for feminin iført kjoler eller nederdele som den her, med mindre selvfølgelig jeg skal til en fin fest som bryllup eller lignende, hvor jeg ville style den med et par sølvstiletter og en basic strop top i silke (som HER). Nederdelen har jeg fået af en veninde, men jeg har linket nogle lignende nederst i indlægget – og ellers bugner genbrugsbutikkerne ofte, at lige netop denne type nederdel.
Faktisk gik min bedstemor (inden hun kom på plejehjem), altid i denne typer nederdele. Jeg mener bestemt at kunne huske, at hun havde én i lyserød og hun gik sjældent i bukser dengang. Hun gik desværre bort for nyligt, så med dette outfit sender jeg især hende en ekstra kærlig tanke <3
Skirt – secondhand / tee – Honest Basics (gift) / knit – Second Female (old) / boots – secondhand Acne Studios / bag – vintage Chanel / Jewelry – my own brand HERE
This season I'm really hooked on this exact type of look though; where the skirt gets some contrast with the chunky sweater and a pair of edgy boots. It's perfect for the days where the temperatures are in between summer and autumn. I must admit though, it's been more autumn than summer these past few weeks, so for me a jumper and jeans are more what I'm going for. But since the skirt isn't new but simply has been moved from one capsule to another, there's no waste even though I haven't worn this combo all that much. This is also just me trying to use this skirt a bit more. And if I fail to do so on a daily basis, I'll still have it for fancy events!
I think the skirt looks cool with a tee, a biker or denim jacket and a pair of sneakers too. The jumper is a couple years old (maybe you guys remember THIS post with one of my very first capsule wardrobes?), and I bought it way before I really got into supporting ethical brands more than anything. I still have plenty of items in my wardrobe like that, which I still use together with secondhand finds and newer purchases from sustainable brands. I love how it looks with a tee like here, to give the light beige colour a bit of a contrast.
…
I år er jeg dog super hooked på lige netop denne type look; hvor nederdelen får lidt kant i form af en chunky sweater og et par rå støvler. Det er perfekt til de der dage, hvor temperaturerne er midt imellem sommer og efterår. Jeg skal dog lige love for, at vejret har været mere til den kolde side de sidste par uger, så lige nu står den altså mere på strik og jeans for mit vedkommende. Men i og med nederdelen ikke er ny, men blot er blevet flyttet fra mit pænere festtøj over i min hverdagsgarderobe, så er der jo ikke som sådan noget spildt. Det er blot et forsøg på at få den brugt lidt mere. Og ellers kan jeg jo altid tage den på hvis jeg skal til fest!
Jeg synes også nederdelen gør sig godt med en t-shirt, en biker eller denim jakke og et par sneakers. Strikken her er nogle år gammel (husker I DETTE indlæg, som var blandt mine første capsule wardrobes?), og den er købt inden jeg for alvor begyndte at gå op i etisk produktion. Sådan nogle stykker tøj har jeg stadig masser af i min garderobe, men de bliver brugt flittigt sammen med mine nyere genbrugsfund samt de ting jeg henad vejen har købt fra bæredygtige mærker. Jeg synes den er super fin med en t-shirt under som her, for at give den helt lyse beige farve lidt kontrast.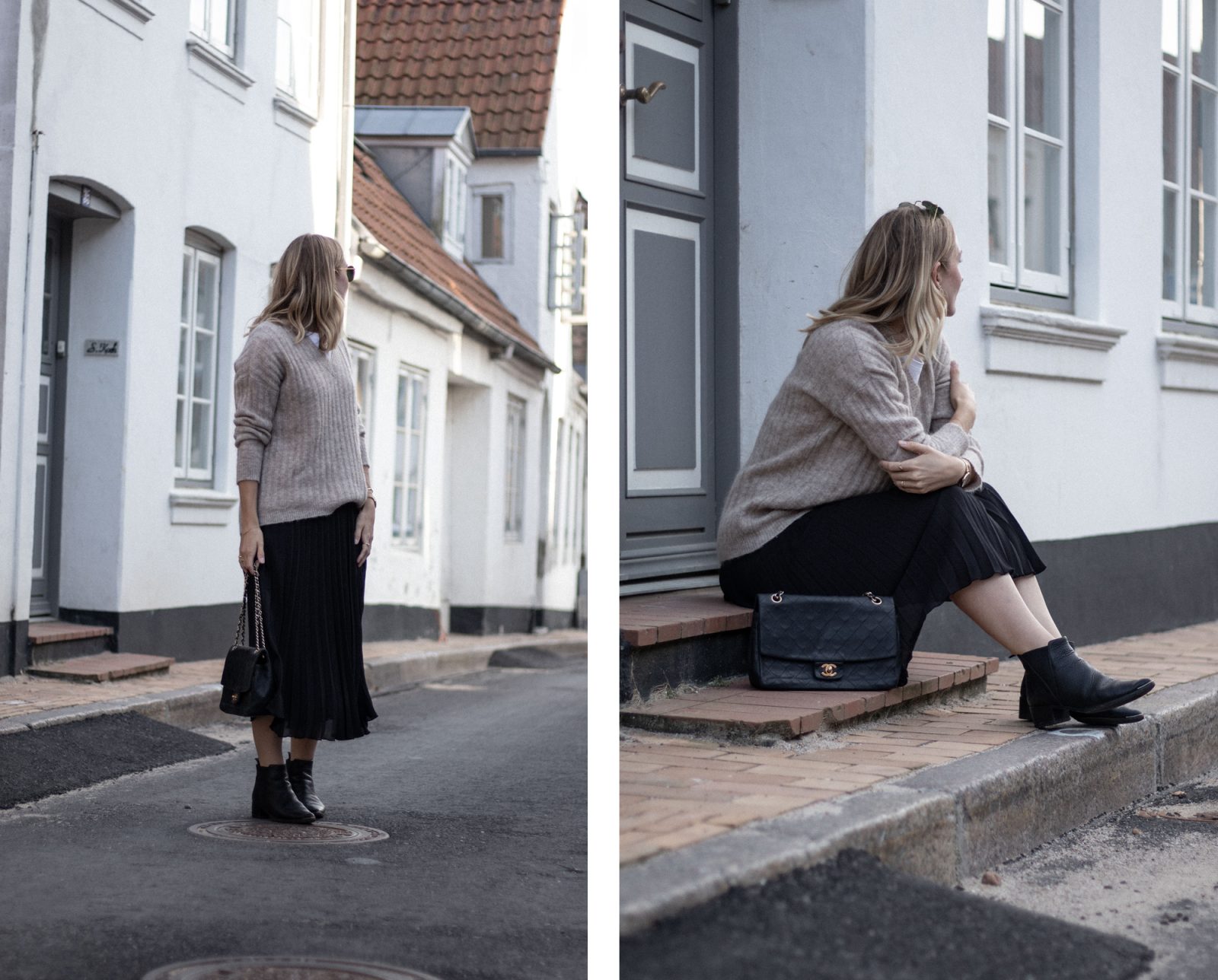 There's no doubt that I'm stepping somewhat out of my own comfortzone with this outfit – but sometimes it's nice giving yourself a little style challenge like that. Besides I felt so awesome in this outfit, and I would never have expected that beforehand! It's all about adding the right amount of contrast, so the skirt doesn't become too girly. Not that there's anything wrong with that, but it just doesn't feel like me. My best styling tip is to save some different reference looks you can use as inspiration, so that you have something to help you out a little in your busy daily life. I've saved some looks on my Pinterest too, so if I feel too challenged styling this skirt I know where to go.
…
Der er ingen tvivl om, at jeg træder lidt udenfor min egen comfortzone med det her outfit – men indimellem er det rart nok at prøve noget "nyt" på den måde. Desuden følte jeg mig simpelthen så godt tilpas i dette outfit, og det havde jeg på forhånd nok ikke regnet med! Det handler om at tilsætte den rette mængde kontrast, så nederdelen ikke gør det for girly. Ikke at der er noget i vejen med dét, men det er bare ikke rigtig mig. Mit bedste styling tip er, at gemme lidt reference looks ned så man har lidt forskellige muligheder, man kan blive inspireret af i en travl hverdag. Jeg har bl.a. gemt nogle looks jeg snildt ville kunne efterligne ovre på min Pinterest, så hvis jeg føler mig udfordret så ved jeg hvor jeg skal gå hen.