Style: autumn colours.
/ You've already seen this bag on Instagram and probably also on Youtube (in the video at the bottom of this post), and sorry (not sorry) to spam you, but look how beautiful it is! I found it in a local secondhand shop in Kolding a few weeks ago, but decided not to purchase it because it didn't have a crossbody strap. It had this little handle to carry it in, but I wasn't a fan of that. I'm more into shoulder bags or crossbody bags that can hang on your body without you worrying about whether you're gonna put it somewhere and then forget to bring it with you.
I har allerede set tasken på Instagram og sikkert også på Youtube (videoen nederst i dette indlæg), og sorry (not sorry) at jeg spammer jer. Men altså se lige hvor flot den er! Jeg fandt den i en lokal genbrug i Kolding for nogle uger siden, men tog den ikke med mig, da den ikke havde en rem. Den havde sådan en lille hank til at holde den i, men jeg er ikke vild med tasker man skal bære i hånden på den måde. Jeg er mere fan af skuldertasker eller crossbody tasker, der kan hænge frit på kroppen uden man skal være nervøs for, om man nu er kommet til at stille den et eller andet sted og så glemmer den.
coat/ Ichi – knit/ Gestuz – jeans/ Asos – boots/ Acne – bag/ vintage+DIY
/ A week ago, I drove back to the secondhand shop I found it in because I just couldn't get it out of my mind. It looks exclusive, it only cost around 23 $ and it's brown, which is something I've been very keen on adding to my wardrobe for a long time. Instead of always choosing my black bags, you know. I found the bag in the bottom of a pile of scarves (maybe someone else had hidden it!) and then I took it home with me. I cut off my handle that was already on the bag and ordered a gold chain as a strap, and now I just think it's even more beautiful! The great thing about this chain is that I can take it off and add it to my other bags too, such as my Marc by Marc Jacobs bag. It gives an exclusive look and the bag almost becomes an extra piece of jewelry. I have bought my chain HERE, but I have also linked more affordable (plus international shipping) options at the bottom of the post.
For en lille uge siden kørte jeg så tilbage til den genbrugsbutik jeg fandt den i, fordi jeg simpelthen ikke kunne få den ud af hovedet. Den ser eksklusiv ud, den kostede kun 150 kr. og så er den brun, hvilket er noget jeg har været meget lun på, at tilføje min garderobe i lang tid. I stedet for altid at vælge mine sorte tasker, I ved. Nederst i en kasse under en masse tørklæder lå tasken (måske var der en anden der havde gemt den!), og så røg den altså med hjem. Jeg klippede hanken af og bestilte en guldkæde som rem, og nu synes jeg bare den er endnu mere smuk! Det fede ved kæden er, at jeg kan tage den af og tilføje den andre tasker også, som fx min Marc by Marc Jacobs taske. Det giver et eksklusivt look, og tasken bliver nærmest et ekstra smykke. Jeg har købt min kæde HER, men har også linket billigere alternativer nederst i indlægget.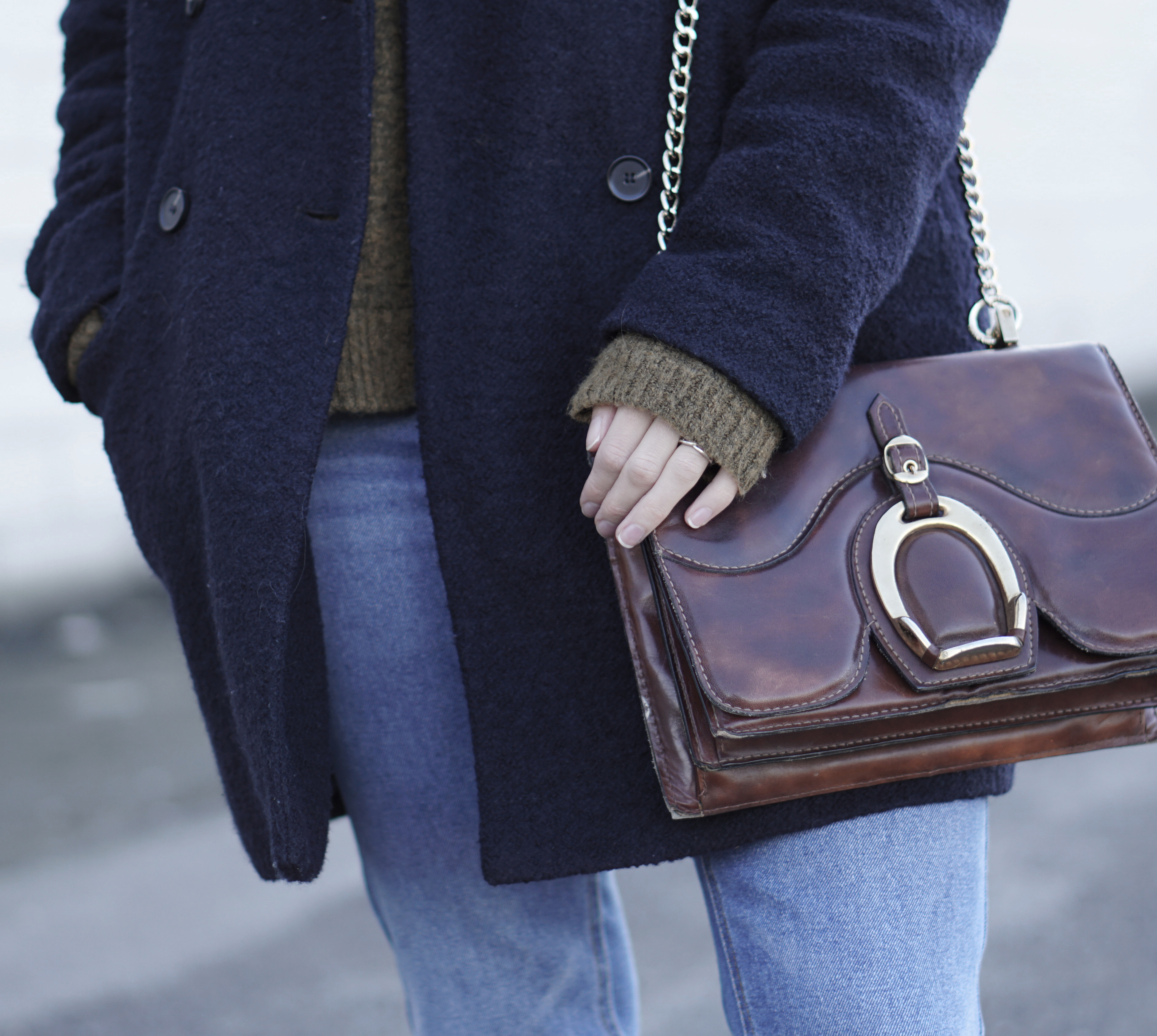 Adlinks

3