T-shirt – Only (old) / leather jacket – H&M (secondhand) / jeans – Asos (old+DIY) /
bag – Marc by Marc Jacobs / boots – Acne (secondhand) / sunnies – Rayban wayfarer

Links to similar products are in the bottom of this post
/ Last Saturday my husband and I  went out to eat a delicious brunch, and I was wearing this outfit for this lovely little event. The jeans are super old and they have actually been hidden away for quite some time. Now that I'm going to build my autumn capsule soon, I've begun to get an overview of what I've hidden away in my storage bags from previous seasons. Among this were these jeans, and I thought I wanted to give them a go – I've been so fond of my light blue jeans this summer that I thought maybe it would be nice with another denim colour for fall too!
I lørdags var min mand og jeg inde i byen for at spise lækker brunch, og jeg var derfor hoppet i ovenstående. Jeans'ne er super gamle, og er nogle jeg har hevet frem fra gemmerne. Nu da jeg snart begynder at opbygge min efterårs capsule, så er jeg så småt begyndt at få et overblik over, hvad jeg har gemt væk i mine opbevaringsposer fra tidligere sæsoner. Heriblandt var disse jeans, og jeg tænkte derfor jeg lige ville give dem en chance – jeg har nemlig været så glad for mine lyseblå jeans denne sommer, at jeg tænkte det måske kunne være fint med et afbræk til efteråret!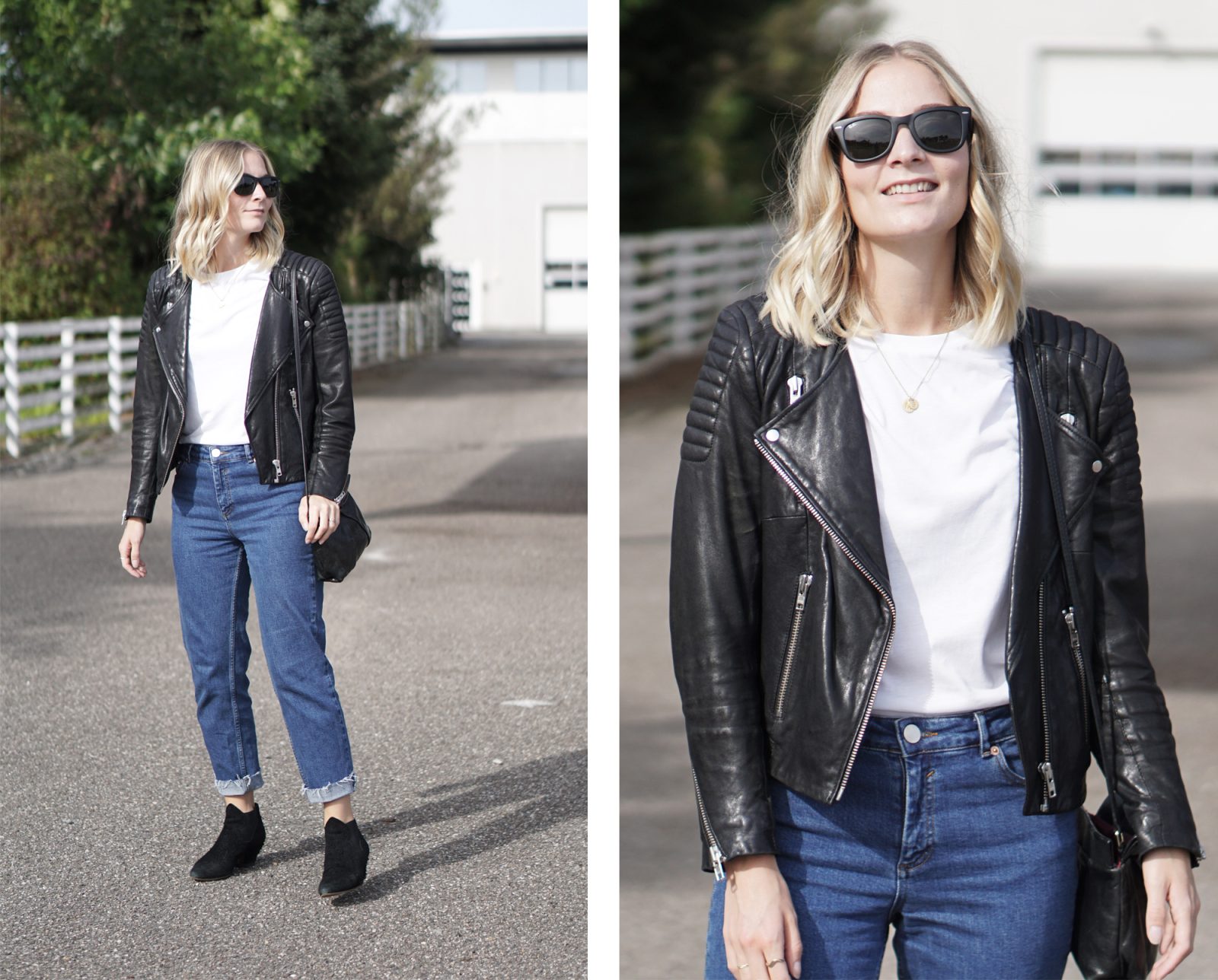 / I got the idea of cutting of the hem and folding the jeans to give them a raw twist. I think that was exactly what I needed to fall in love with them again! I also think I want to take them in a little bit down the leg so they become a little more fitted on the bum but have a little bit of flare in the leg. You know, like the popular "kick-flare" jeans (like THESE). I know I'm going to love using these jeans during autumn and I think they're a great example of how you can fall back in love with old clothes by giving them a little love and  attention. Ask yourself why you are not reaching for this item, and if there's something you can do to change that. If I get tired of the blue color, I can always color them with black machine color!
Jeg fik den idé at klippe bukserne over i benene, og give dem et lille opsmøg. Det tror jeg var lige præcis det, jeg havde brug for, for at forelske mig i dem igen! Jeg tror også jeg vil sy dem en lille smule ind ned langs benet, så de sidder mere til på numsen men har en lille smule svaj. I ved, lidt ligesom de populære "kick-flare" jeans (fx DISSE). Jeg ved jeg kommer til at elske at bruge disse jeans til efteråret, og jeg synes de er et fantastisk eksempel på, at man godt kan forelske sig i gammelt tøj på ny, ved at give dem lidt kærlighed og spørge sig selv, hvad det egentlig er der gør, at man ikke får dem brugt. Hvis jeg bliver træt af den blå farve, så kan jeg altid farve dem med sort maskinfarve!
Adlinks