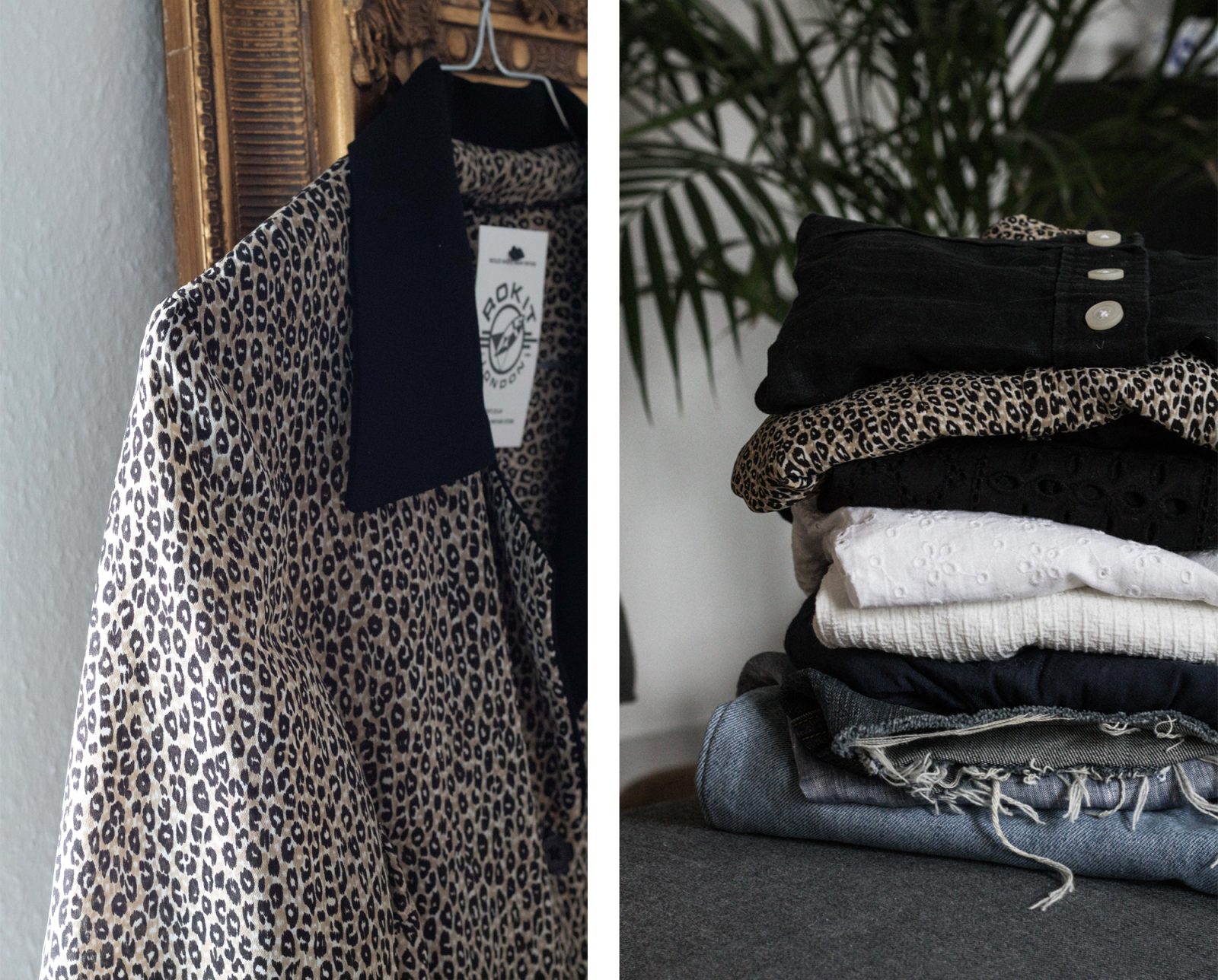 A look back at spring
For me personally, spring has been a bit of a whirlwind. But when I'm sat here at my desk, thinking about how much I've accomplished this year I got to be honest; I'm well proud of myself. I'm actually proud of both my husband and I (he's btw training to participate in the cyclist race La Marmotte this summer, and he's in his best shape ever). We moved from our big house to this little apartment in our hometown, and I just know I couldn't have done all this without him. While I was in London a few weeks back, he managed to finish up the final things back in the house, and he handed over the keys to the new, happy owners. Besides the move I went 100% self-employed a couple months ago too, and right now I'm actually discussing a potential collab with Business Aabenraa (the business network in my hometown), and I'm just so honoured that I could maybe help my city draw a little attention to itself. Especially when it comes to innovation and sustainability. This season I've met so many interesting and inspiring people both at my meet-up in London, and latest at a really exciting event in Oslo that I had been invited to by Mercedes Benz, to celebrate the launch of their new electric car. 
All this has of course meant, that my thoughts have been allover the place. I haven't been thinking so much about my wardrobe as I would maybe normally do. Don't get me wrong, I've still posted pictures of outfits over on my Instagram, but there's been lots of days with dirty work-clothes or simply a pair of jeans and a jumper (plus no makeup) in between. I can say though, that per usual I've been super satisfied with my capsule wardrobe this season. I also snatched up my ultimate dream bag recently, and overall I feel like my wardrobe has been really harmonic. But I'm also looking forward to summer and warmer days now. My summer will by the way be all about our trip to South France (by car) and a couple festivals too, and I'm so excited for it all.
…
Foråret har for mit vedkommende været en lille smule hektisk, men når jeg sidder her ved mit skrivebord og tænker på, hvor meget jeg har opnået bare i år, så bliver jeg sgu ærligt også lidt stolt af mig selv. Well, faktisk er jeg også mega stolt af min mand (som iøvrigt træner op til cykelløbet La Marmotte i øjeblikket, og hans cykelform er bedre end nogensinde). Vi fik flyttet fra vores store hus til en lille lejlighed i vores hjemby, og selvom vi har gjort det i fællesskab, så kunne jeg bare ikke have gjort det uden hans støtte og mentale overskud. Mens jeg var i London for et par uger siden fik han ryddet op i de allersidste ting, og også overdraget huset til de nye, glade ejere. Han er altså en knag. Udover det er jeg jo gået 100% selvstændig, og er lige nu i dialog med Business Aabenraa om mulige samarbejder her i lokalområdet, og jeg er bare så beæret over at få tilbuddet om, at kunne være med til at gøre lige netop min by mere innovativ og spændende, især når det kommer til bæredygtighed. Denne sæson har jeg også mødt så mange inspirerende mennesker, både til mit meet-up i London og senest til et virkelig spændende weekendarrangement i Oslo med Mercedes Benz, som jeg blev inviteret med til i forbindelse med lanceringen af deres nye el-bil.
Alt dette har selvfølgelig også betydet, at mine tanker langt fra har handlet så meget om mit klædeskab, som det måske normalt gør. Misforstå mig ikke; jeg lægger stadig daglige outfits op ovre på Instagram, men der har også været masser af dage med beskidt arbejdstøj eller simpelthen bare en strik og et par jeans (og ingen makeup). Jeg kan dog sige så meget, at jeg har været tilfreds med min capsule som sædvanligt. Denne sæson fik jeg også tilføjet vintage-drømmetasken til min garderobe, og alt i alt synes jeg min garderobe har været super harmonisk. Men nu ser jeg også frem til sommer og lunere dage. Min sommer byder iøvrigt på en kør-selv ferie til Sydfrankrig og et par festivaller, som jeg glæder mig rigtig meget til.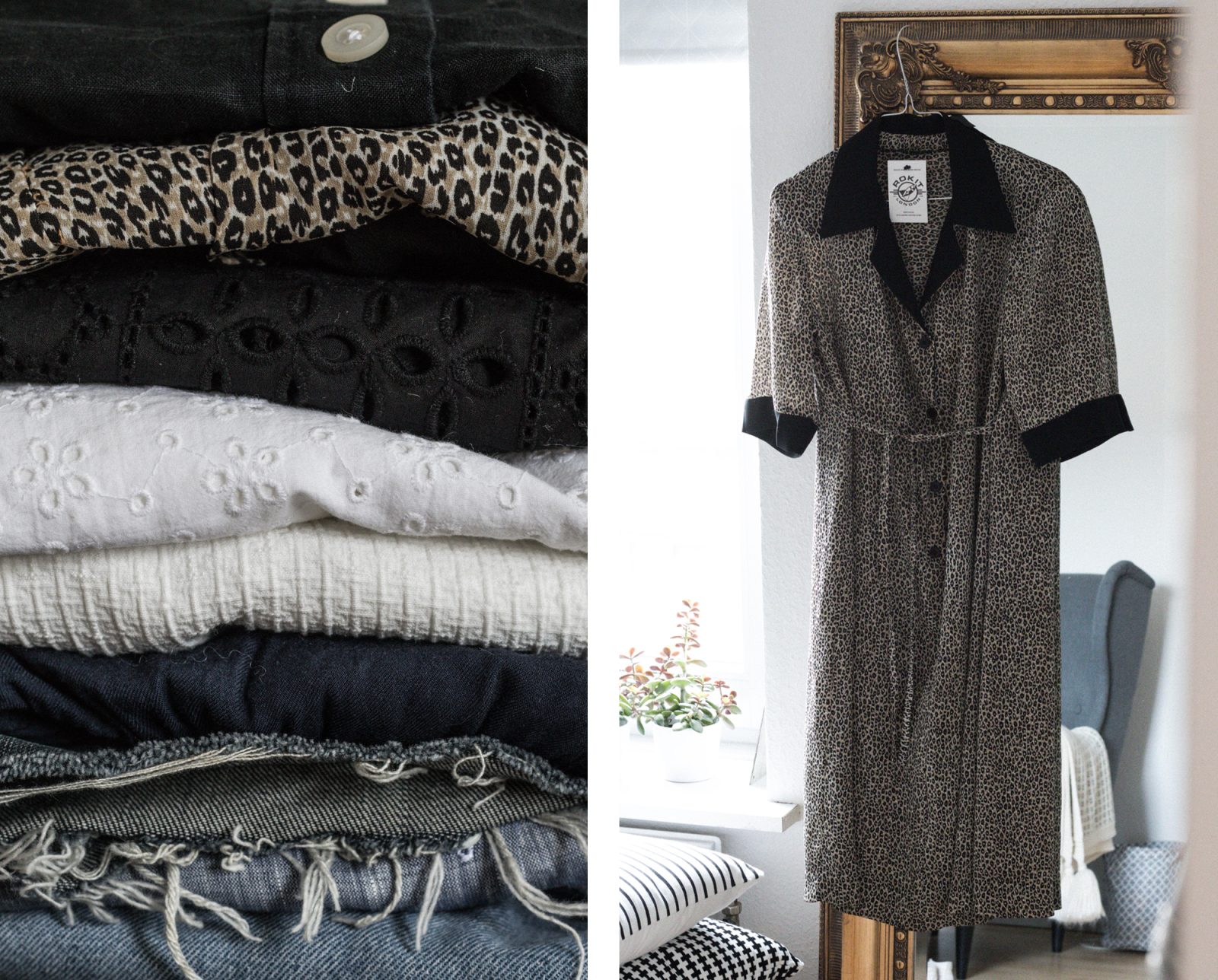 A vintage shirt-dress bought in Rokit vintage, London. My idea is to turn it into a shirt and a skirt.
Keep an eye out for a potential DIY video on Youtube!
My inspiration for the coming season
I actually feel like my style is evolving a little bit at the moment. Not in another direction entirely, but more in a direction that has been on its way for a long time. The thing with style is, that it's very personal and it will never be 100% static. It will probably always more or less be a reflection of what is going on in your life. Maybe it's because I generally feel like I've really found myself these past few years. Many of you might already know that one of my biggest style icons is the Danish L.A. based designer, Anine Bing. Her style is the perfect combination of Scandinavian minimalism with a twist of an edgy rock'n'roll attitude. It speaks to me because both of these elements are a huge part of my own personality. I love structure an order, but I have this more reckless side of me too, someone who likes to let go and be a bit more carefree (and put Foo Fighters on the stereo at 7AM in the morning). My starsign is Gemini, so maybe that can explain this double sided, indecisive personality a bit, haha!
In any case I have this urge to embrace this side of myself a little bit more this season. So that's why leopardprint, graphic tees and raw denim is what inspires me most at the moment. And wearing boots with everything.
…
Jeg føler faktisk, at min stil udvikler sig lidt i øjeblikket. Ikke i en anden retning, men måske nærmere i en retning der har været længe undervejs og som er super meget mig. Det er jo sådan at stil er meget personlig, og heller aldrig nogensinde er 100% statisk. Det vil nok altid følge de ting der foregår i éns liv. Måske hænger det sammen med, at jeg generelt føler jeg har fundet mig selv de sidste par år. Mange af jer ved, at ét af mine største stilikoner er Danske, L.A.-baserede designer Anine Bing. Hendes stil er den perfekte kombination af Skandinavisk minimalisme, med et twist af rock'n'roll. Det taler til mig, fordi begge disse elementer er en stor del af mig selv. Jeg elsker rene linjer og struktur, men jeg har også en mere rå side, der elsker at give slip og være lidt mere ligeglad (og fyre op for Foo Fighters kl. 7 om morgenen). Mit stjernetegn er tvilling, så det forklarer måske denne dobbelt-personlighed lidt, haha!
Ihvertfald så har jeg en iboende trang til, at omfavne den her rå side af mig selv lidt mere denne sæson. Så derfor er det især ting som leopardprint, grafiske t-shirts og rå denim der inspirerer mig i øjeblikket. Og støvler til alt.
Storage clearout & wishlist
As a "new" thing this season, I went through all my storage boxes to clear out the things I haven't used for several years. I've actually put these items up in my BUNZ profile (a super cool trading app that I just did a collab with in the video below), but I might sell some of it on my 2ndhand shop Linger otherwise. Keep an eye on the Instagram profile for the ladder, because I always share the newest additions to the shop in there. There were a little handful of clothes and shoes in my storage, that I haven't worn for years and therefore felt I needed to say goodbye too. Especially since my style has evolved a bit lately.
Usually I make a wishlist based upon the inspiration I've saved, and before adding any new (preferably secondhand) purchases to my wardrobe, I'll go through my storage. I often find out that I have so many awesome items in there already, which can substitute any new wishes. If I move too far above 40 items in my wardrobe in total (basic+season), I often end up not using every item, which is so not the point with a good capsule wardrobe. But I'd just like to underline the fact, that I do buy most of my clothes preloved so in that way I have a bit more of a clean conscience should I end up not using a particular item at all. I've had a pair of wedge espadrilles on my wishlist for absolute ages, and although these from French, sustainable brand Les-sublimes has been on my radar since last year, I actually managed to find a preloved pair on Vestiaire Collective in my size. Can't wait to add those to my summer staples. A leopard shirt has been a wish of mine for a while too, along with a utility style shirt dress, and a boho-dress with some sort of dark flower print. I've pictured the dresses worn with boots of course, for the ultimate rock chic vibe. But I might take at least one of these dresses off my wishlist because I do actually have a (several years old) cute one in storage already, which kind of got the same vibe. I've got so many nice things in storage that fit perfectly within this rock chic style, that I'm having trouble choosing between them, haha! What a first world problem, ey. 
Anyway, that's the process so far. Can't wait to share the final capsule with you!
…
Som noget "nyt" denne sæson, så har jeg faktisk ryddet lidt op i mine opbevaringsbokse, hvor jeg gemmer tøj fra tidligere sæsoner. Noget af tøjet er jeg interesseret i, at bytte via BUNZ (en mega sej bytte-app, som jeg lige har kørt en kampagne med i videoen nedenfor), og ellers kan det sagtens være noget af det bliver sat til salg på min 2ndhand shop Linger. Hold evt. øje på Instagram-profilen til sidstnævnte, for der deler jeg nye varer hver dag. Der var en lille håndfuld tøj og sko, som jeg i flere år efterhånden ikke har gået med, og som jeg – især fordi min stil udvikler sig lidt lige i øjeblikket – har taget en beslutning om, at sige farvel til.
Jeg laver som regel en ønskeliste baseret på min inspiration, og før jeg går ud og evt. køber nyt (som sædvanligt helst brugt) så går jeg igennem mine opbevaringsbokse. Ofte finder jeg ud af, at jeg allerede har noget liggende der kan erstatte ønsket om et nyt køb, fordi det i virkeligheden minder rigtig meget om, eller ganske enkelt fordi jeg synes jeg har nok fine ting i forvejen. Hvis jeg bevæger mig for langt over 40 items (basis+sæson total), så ender jeg med ikke at få brugt en stor del af det, og det er jo ikke meningen. Dog vil jeg sige, at fordi jeg gør en dyd ud af netop at købe det meste af mit tøj brugt, så har jeg lidt mindre dårlig samvittighed, hvis der er et item jeg ikke får brugt så meget som ønsket en sæson. Jeg har længe ønsket mig et par espadriller, og har haft øje på disse, fra det bæredygtige franske mærke Les-sublimes siden sidste sommer. Jeg fandt dog et par brugte espadriller på Vestiaire collective i min størrelse, så dem glæder jeg mig til, at tilføje sommer garderoben. I min optik er det den ultimative sommer staple, når vi snakker sko. En leopard skjorte har også stået højt på ønskelisten i noget tid. Udover det så har jeg både skrevet en form for utility skjortekjole på listen, samt en lidt mere boho-agtig kjole med et mørkt blomsterprint – begge dele til, at bære med støvler for et ultimativt rock chic look. Men jeg tror jeg streger mindst én af disse, da jeg allerede har en (flere år gammel) kjole liggende, der lidt kan det samme. Jeg har faktisk rigtig mange fine ting gemt, som passer godt ind i den her lidt mere rå stil – så mange at jeg i øjeblikket har lidt svært ved, at vælge mellem dem haha! Sikke et luksusproblem.
Anyway, det er processen so far. Glæder mig til, at dele det endelige resultat med jer!