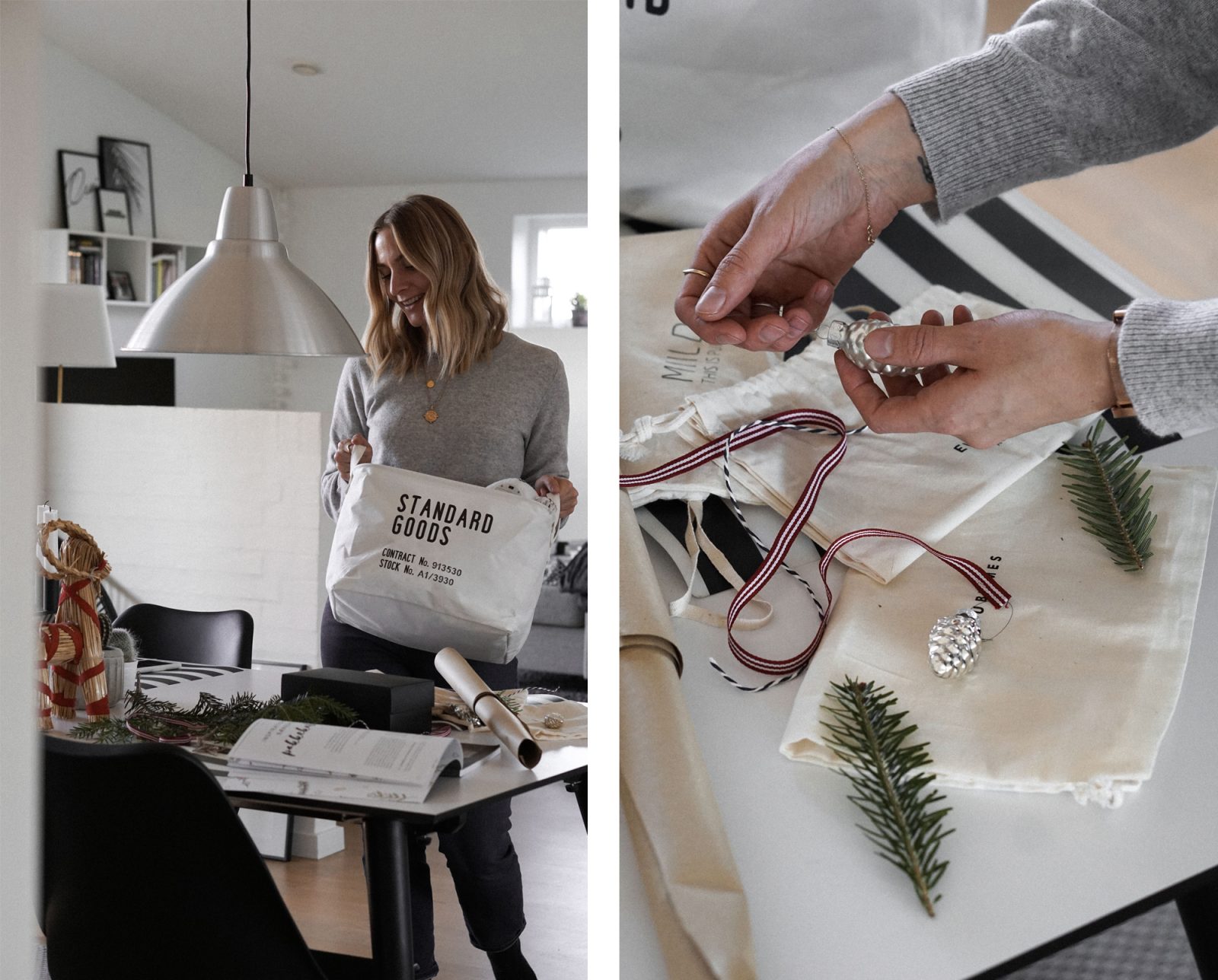 Christmas time is coming, and I am so excited! It's like the older I get the more I'm looking forward to celebrating Christmas. This year I've been longing for the festive season to arrive ever since the beginning of October, haha! We haven't put up our Christmas decor yet, but I promise you as soon as the calendar says December 1st I'm bringing out our box with Christmas decorations. We've already started eating Christmas cookies and we're watching Christmas bakeoff shows on TV from last year, both are absolute guilty pleasures around our house this time of year: all the snacks you are "allowed" to eat because well, it is December afterall, and then all the Christmas TV shows we can find.
This year we've actually decided (on my part of the family anyway) to not buy each other any presents. Only the kids will have a few presents on Christmas eve. My husband and I are gonna exchange gifts though, and I'm also gonna make him a really personal advent calendar (more about that one further down in the post). Christmas is sadly equal to unsustainable over-consumption too, so there's plenty of reason to be a little more creative this time of year. I'm really happy about my Sustain Yearly Christmas Magazine (only available in Danish this time around, sorry guys!), which I was lucky to get my hands on last month when I participated in a live podcast recording together with the founder, Johanne. We spoke about Black Friday and Christmas consumerism in general, and you might have gotten a snippet of it all in my last vlog. If you understand Danish you can catch the episode right HERE. The magazine has truly inspired me to take sustainable Christmas traditions one step further. It's also the magazine that gave me the idea for the before-mentioned advent calendar. So in this post I thought I wanted to inspire you guys as well, and share some amazing, sustainable and personal Christmas gifts that I'd be happy to receive myself – and there's some both for him and for her.
…
Juletiden nærmer sig med hastige skridt, og nøj hvor jeg glæder mig! Det er som om, at jo ældre jeg bliver des mere glæder jeg mig til jul. I år har jeg været i julehumør stort set siden oktober, haha! Vi har ikke pyntet op til jul endnu, men så snart det er 1. søndag i advent, så kan jeg love jer for kassen med julepynt bliver taget frem. Vi har allerede taget hul på brunkage spiseri og julekage-programmer, som er nogle af vores absolutte guilty pleasures herhjemme i juletiden: alle de snacks det er "tilladt" at spise i december og alt det jule-TV vi kan komme i nærheden af.
I år har vi i min familie faktisk besluttet, at droppe julegaveræset og nøjes med at give de små et par gaver. Min mand og jeg udveksler gaver med hinanden, og så har jeg også tænkt mig, at lave en fin, personlig advent kalender til ham (mere om den længere nede i indlægget). Julen er jo desværre også overflods- og overforbrugsfesten over dem alle, så der er god grund til, at tænke sig om en ekstra gang på denne tid af året. Jeg er umådeligt glad for mit Sustain Yearly Jul magasin, som jeg var så heldig at få fingrene i da jeg deltog i en podcast sammen med Johanne, der er stifter af magasinet. I podcasten taler vi om Black Friday og netop overforbrug i forbindelse med jul i det hele taget – måske har du allerede fået lidt af det med i min seneste vlog. I hvertfald kan du høre den endelige podcast lige HER. Magasinet har givet mig så mange gode idéer til en mere bæredygtig jul, bl.a.har det været inspirationen til den førnævnte advent kalender. I dette indlæg tænkte jeg, at jeg ville gå skridtet videre og komme med mit bud på en række lækre, personlige og bæredygtige julegaveidéer – både til ham og hende.

1 (AD) – Mapiful poster (10% discount with code use.less10) / 2 – Miild gift set (DE/UK site HERE)
/ 3 – Hevea baby & puppy bits / 4 (AD) – Les Sublimes cashmere jumper (10% discount with code USELESS10
/5 – Arket recycled wool jumper for HER and HIM / 6 – Organic basics packs for HER and HIM
/ 7 – Clean perfume for HER and HIM /8 – Norrfolks recycled gold jewelry
/ 9 – Nordgreen watches / 10 – Arket unisex cashmere scarf
The personal one
Mapiful is a webshop where you can create your own poster based on any place in the world. I've got a poster in our office with the words "San Francisco – let courage carry you" on it. It's a lovely memory of our trip to The States last year, where we ended up getting married in Las Vegas. Besides that it reminds my every day, that some times you need to just take a chance and do the things that scare you anyway. Often you'll find out that things aren't as dangerous as you might think, and therefore you'll grow through the experience much stronger than you were before! It's really easy to make a poster in the editor, and you can even get the poster shipped straight home to the one you want to gift it to (wrapped up and everything). I think it's such a lovely, personal gift – and in general I love presents that are all about shared memories and adventures.
…
Mapiful er en hjemmeside hvor du kan designe din egen plakat baseret på et hvilket som helst sted i verden. Jeg har én hængende på vores kontor med teksten "San Francisco – let courage carry you". Den er et skønt minde om vores tur til USA sidste år, hvor vi endte med at blive gift i Las Vegas. Desuden minder den mig hver dag om, at nogle gange skal man bare tage springet og gøre de ting man er bange for alligevel. Ofte ender man så meget stærkere ud på den anden side, fordi man finder ud af det slet ikke var så farligt alligevel! Det er super nemt at lave sin egen plakat i deres editor, og så kan man endda få sendt plakaten direkte hjem til den, som man gerne vil give den i gave (indpakket!). Jeg synes det er en skøn, anderledes og mere personlig gave og jeg elsker generelt gaver, der hylder gode minder eller oplevelser.
The inevitable basics
A soft gift (especially those which contains socks) are always set out to be the most boring gift of them all. Why, I'm actually sometimes wondering – I hate buying socks for myself, so if someone chooses to gift me a pair, well that's the burden taken off my shoulders, haha! Besides socks other inevitable basics like t-shirts and underwear are other great gift ideas both for him and her. Organic Basics have a concept called "save with packs", which basically means you get a certain amount of discount when you buy more than one product. It's perfect for Christmas gifts! Personally I love the triangle bra and their t-shirts the most. The brand also just launched a sportswear capsule in recycled nylon, which is a great gift for the active (or anyone who needs some extra motivation to get started in the new year).
A lovely, soft jumper is another great gift to give someone you love. If you don't have the skills to knit one yourself Les Sublimes make the most amazing, ethically produced cashmere jumpers. I've got the grey crew neck one as a gift from the brand, and it is snug as a bug! If you are looking for a brand that makes jumpers in recycled wool both for him and for her, Arket has a great selection.
…
En blød pakke (særligt sådan én der indeholder strømper) bliver altid fremstillet som den kedeligste form for julegave i mands minde. Hvorfor, det forstår jeg egentlig ikke – personligt hader jeg at købe strømper selv, så hvis jeg får det i gave er det en byrde taget af mine skuldre, haha! Udover strømper er andre lækre, uundværlige basis produkter som t-shirts og undertøj også virkelig gode bud på julegaver til både ham og hende. Organic Basics har et koncept der hedder "save with packs", hvor du får en hvis rabat når du køber flere stk. af deres varer. Det er jo genialt til julegaver! Jeg er personligt virkelig glad for deres BH og t-shirts. Mærket har også netop lanceret en linje med sportstøj i genanvendt nylon, som jo også er en kanon gave til de sportsinteresserede (eller dem der har et nytårsfortsæt om, at komme igang i det nye år).
En dejlig, blød strik er også en lækker gave at give (eller få, for den sags skyld). Hvis du ikke har skills til at lave én selv, så laver Les Sublimes de fineste, bæredygtige kashmir trøjer. Jeg har én i grå som de har sendt mig i gave, og den er simpelthen det blødeste i verden! Hvis du er på udkig efter et mærke der både laver bæredygtig strik til hende og til ham, så laver Arket nogle fine trøjer i genanvendt uld.
A lifetime piece of jewelry
Some of you might remember the jewelry brand Norrfolks, which I've mentioned quite a few times on my platforms. The reason why I love this particular brand so much is because not only do they make timeless jewelry in both solid gold and silver, the jewelry are made under ethical conditions and from recycled materials too. You'll get a lifetime piece of jewelry, and the prices are reasonable too. I love the fact that their jewelry are solid gold, and not just plated. It lasts forever, and it will be something that you can pass on to your children once.
Nordgreen makes watches for both men and women, and this is another great gift option for the jewelry category. When you buy a Nordgreen watch you get to choose different good causes to support. For example you can help people in vulnerable areas get clean drinking water. I think that's pretty cool. Their watches are really minimalistic and classic – I've got the Philosopher myself, and I wear it every single day.
…
Nogle af jer husker måske smykkemærket Norrfolks, som jeg efterhånden har nævnt et par gange. Grunden til jeg er så begejstret for lige netop dette mærke er både fordi de laver tidløse smykker i både sølv og guld, men de bruger tilmed genanvendte materialer og følger også etiske processer i fremstillingen af dem. Du får et smykke som ikke kun vil holde for evigt, men deres priser er tilmed overkommelige. Jeg er vild med, at de laver deres guldsmykker i rigtigt guld, og ikke bare guldbelagt sølv. Det holder længere og vil være noget, som kan gå i arv en gang, når du ikke bruger det længere.
Nordgreen laver ure til både mænd og kvinder, og er et andet godt bud på en lækker julegave i smykke-afdelingen. Når du køber et Nordgreen ur så kan du vælge mellem forskellige gode sager at støtte, fx kan du hjælpe med, at give rent drikkevand i udsatte områder. Det synes jeg er ret sejt. Deres ure er super fine og klassiske – jeg har selv deres Philosopher, som jeg bruger hver eneste dag.
Beauty bits and self-care
Miild is my favourite when it comes to sustainable, organic makeup in high quality. If you would like to spoil someone you love (or maybe just yourself), you can even buy different gift sets from the brand, which is perfect for Christmas (I've only been able to find this particular set on the Danish shop though – find the UK/DE shop HERE). The single products are a great gift too though, and if you are wondering which ones my favourites are it's the powder and the concealer for sure.
Perfume is usually something that people enjoy gifting each other around Christmas. I've used Clean for years now (my faves are Skin and Love Grass), and in general this is a great, eco-friendly choice if you're looking to buy a perfume for someone dear to you, whether it's a man or a woman. 
…
Miild er mit yndlingsmærke, når det kommer til bæredygtig, økologisk makeup i høj kvalitet. Hvis du virkelig gerne vil forkæle én du holder af (eller måske bare dig selv), så kan man endda købe forskellige sæt hvor der medfølger en lille makeuptaske, hvilket jo er perfekt til en julegave. Hvis du er på udkig efter de enkelte produkter til én der ikke kender dem i forvejen, så er mine absolutte favoritter deres pudder og concealer.
Parfume plejer også at være et gave-hit, igen både til ham og til hende. Jeg har selv brugt Clean i flere år nu (mine yndlingsdufte er Skin og Love Grass), og mærket er i det hele taget et godt, bæredygtigt valg hvis du er på udkig efter en lækker parfume, til én du holder af.
For the little ones
Some time ago I was contacted by the team behind Hevea Planet, because they wanted to send my puppy Oskar a few toys in natural rubber. I had to say yes to that, right? Besides puppy toys they make bits and bobs for babies as well. Christmas is also a festive time for the little ones, and therefore it's a great idea to choose gifts that are not only safer for them but also better for the environment. If you know someone who are parents to be for example, this would be a great brand to look out for.
…
For noget tid siden skrev teamet bag Hevea Planet til mig, om de måtte sende nogle af deres bæredygtige stykker hunde-legetøj i naturgummi til Oskar. Det sagde jeg ja tak til, og hvor er jeg glad for at have lært dette mærke at kende! Udover hundelegetøj så sælger de også diverse småting, som fx sutter, til babyer. De små er jo tit i centrum når det kommer til gaver i juletiden, så det er fantastisk at man har mulighed for at vælge noget, der ikke kun er mere sikkert for de små, men også gør vores miljø en tjeneste. Kender man fx et forældrepar som venter sig eller lignende, så er disse produkter en dejlig gave.
The non-materialistic one
Last but not least I wanted to include a bunch of ideas for non-materialistic presents too. It could be a helping hand for someone who really needs it – my sister and I gave our mom a thorough cleaning of her apartment as a Christmas gift last year, because she doesn't have the strength to do this as thoroughly herself, so it was a great burden we took of her shoulders when we dedicated an entire day to get things sorted for her. Other ideas could be tickets to a concert, musical, festival or the like. A weekendtrip somewhere nice, a spa-treatment or just a lovely dinner are other great gift ideas in this area.
In December it's also pretty common that you make someone dear to you an advent calendar. Some people make one with 4 gifts: one for each Sunday before Christmas and others make a calendar with 24 little gifts. I don't know about you guys, but my experience tells me that these gifts are often useless things you don't really need or that will just end up in a drawer somewhere, so in many ways this type of calendar is such a waste. This year I'm gonna do things bit differently though, because let's face it; advent calendars are fun, cozy and just something you'll never get too old for. But in stead of the traditional 24-packs-o-crap calendar, I'm gonna print out 24 pictures that each represent a memory my husband and I share together. I love looking at old photographs, so I think it's gonna be so nice for both of us to open one of the memories every day up until Christmas. The 24th. I'll then gift him his "real" present. Instead of the memories you could also do each other favours every day – cook, decide which movie you should watch or something similar. That's also something that could be quite fun for the little ones.
…
Sidst men ikke mindst, så vil jeg gerne slå et slag for de ikke-materialistiske gaver. Det kunne være en hjælpende hånd til nogen som virkelig har brug for det – min søster og jeg gav fx min mor en grundig hovedrengøring af hele hendes lejlighed sidste år, og fordi hun ikke selv har kræfterne til netop dette med samme grundighed, så var det jo en kæmpe hjælp at vi dedikerede en hel dag til at hjælpe hende. Det kunne også være oplevelsesgaver som billetter til en koncert, musical, festival eller lignende. En weekendtur, et spa-ophold eller bare en lækker middag er også super fine bud på sådanne gaver.
I december måned er der jo også ofte tradition for, at man laver én eller anden form for pakkekalender til én man holder af. Nogle holder sig til advent kalenderen hvor man giver 1 gave hver søndag i advent, så altså 4 gaver i alt i løbet af December. Andre giver en lille ting hver dag helt op til juleaften. Jeg ved ikke med jer, men jeg ved af erfaring at disse gaver ikke nødvendigvis altid er noget, som man reelt set har brug for og ender bare i en skuffe ét eller andet sted, så på mange måder er pakkekalenderen jo det rene spild. I år vil jeg dog lave en lidt alternativ pakkekalender (igen inspireret af Sustain Yearly Jul) til min mand – for det er jo mega hyggeligt uanset hvad, og det bliver vi aldrig for gamle til, haha… Jeg vil i stedet for at købe en masse små, ubrugelige ting printe 23 billeder ud, som hver repræsenterer noget vi har oplevet sammen, som han hver dag skal åbne. Jeg elsker at gå i gemmerne og kigge på gamle billeder af os, så jeg tror det bliver super hyggeligt for os begge to. Den 24. får han så sin "rigtige" julegave. I stedet for minderne kunne man også gøre hinanden nogle tjenester hver dag – lave mad, bestemme hvilken film I skal se eller lignende. Det kunne de små også bedre være med på.