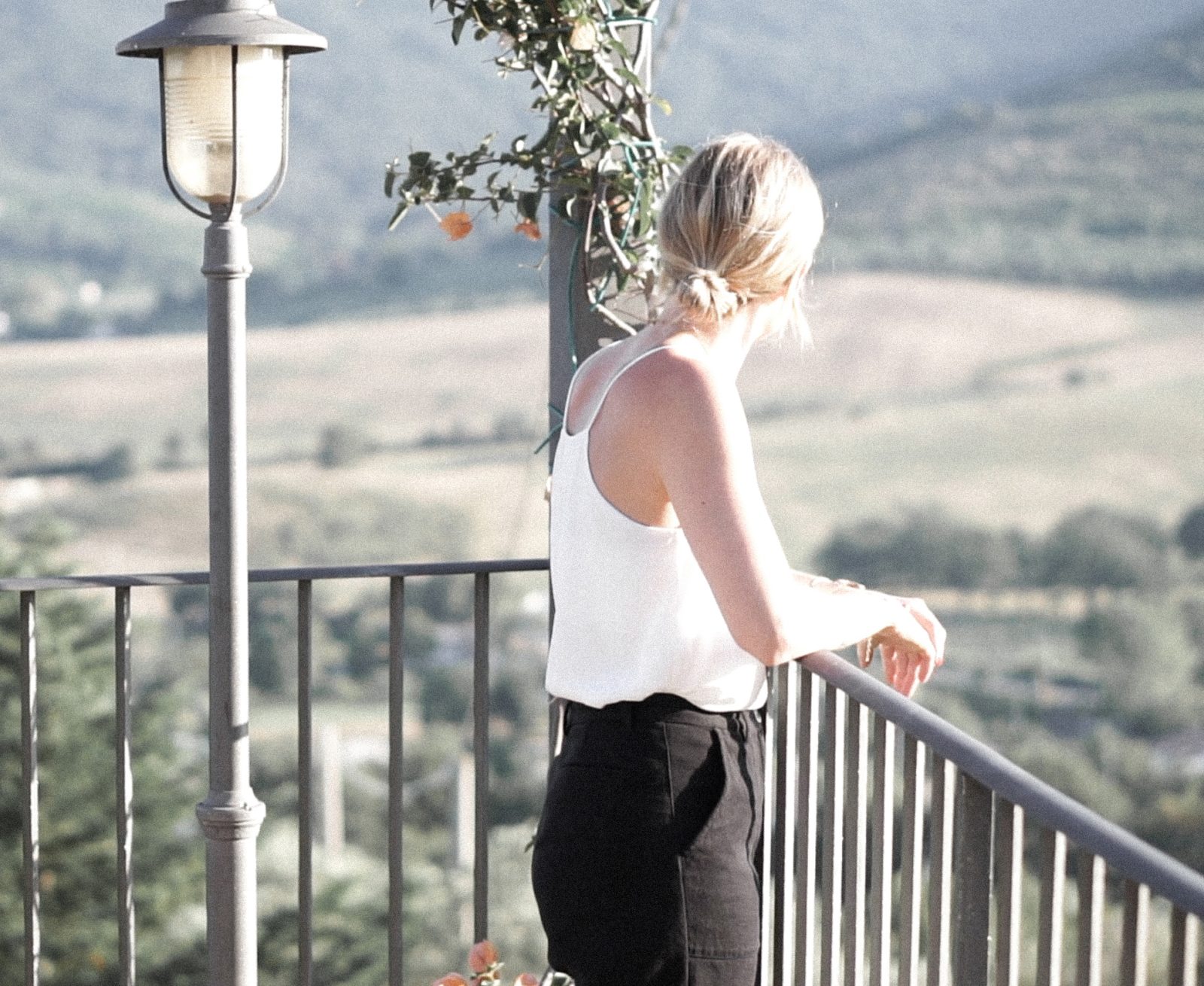 As most of you guys know I just returned from my summer holiday in South Italy with my husband. A few months back I was contacted my Adriana who runs a B&B with her family in Agropoli, and she invited us to come visit for a few days free of charge to explore the area. I obviously couldn't resist that offer – my husband had never been in Italy and I had only ever been in Milan years ago but I've heard many good things about the southern part of Italy. After our short visit at the B&B we drove to Sorrento and spend a little less than a week there before going back home to Denmark. It's been one of the best vacations I've ever been on; the nature, views, kind and warm people and some of the best food I have ever tasted in my life. I can surely say that it won't be our last visit! We drove down there ourselves which is a pretty long haul (of course we stopped on the way). I'm not discouraged by doing it again, even though it was a very long and tiring drive, but it was also just so nice to have the freedom of stopping whenever we wanted to. On our drive down there we drove through the mountains of Rovereto in the very north of Italy and we quickly agreed that was where we wanted to spend our first night, before driving the last kilometers the next day. The car also became indispensable for us in Agropoli because it made it so much easier to get around on all the steep hills of the city. If you want to know more about what we did and saw i Agropoli, you should check out my vlog in the bottom of this post (there's more info in the description box below the video on Youtube).
…
Som den opmærksomme læser ved, så er jeg netop vendt hjem fra den skønneste ferie i Italien med min mand. Jeg blev for nogle måneder tilbage inviteret til Agropoli af Adriana, som har en B&B med hendes familie i det sydlige Italien. Det tilbud kunne jeg naturligvis ikke modstå – min mand havde aldrig været i italien og jeg selv har dog været i Milano for flere år tilbage, men har altid kun hørt godt om den mere sydlige del. Efter vores lille ophold på hendes B&B tog vi videre til Sorrento og var der en uges tid, inden vi atter vendte hjem mod Danmark. Det har virkelig været én af de mest fantastiske rejser jeg nogensinde har været på; naturen, udsigten, hjertevarme mennesker og noget af den lækreste mad jeg nogensinde har smagt. Kan ihvertfald sige, at det ikke er sidste gang vi rejser til det sydlige Italien! Vi kørte selv hvilket er er ret lang tur (naturligvis med stop undervejs). Jeg er ikke afskrækket fra kør-selv ferie selvom det var en meget lang og ret udmattende tur, tværtimod så synes jeg virkelig også bare det var hyggeligt og den frihed man har til at stoppe når og hvor som helst er bare skøn. På turen derned kørte vi gennem et bjergpas i Rovereto i de nordligste del af Italien og vi blev hurtigt enige om, at fine et hotel lige dér mit i bjergene inden vi kørte det sidste stræk dagen efter. Bilen var virkelig også dejlig at have i Agropoli, for det gjorde det så meget nemmere at komme rundt og se en hel masse ting i det meget bakkede landskab. Hvis du vil vide mere om hvad vi så på turen, så er der en vlog nederst i dette indlæg (med tilhørende info i beskrivelsesboksen på Youtube).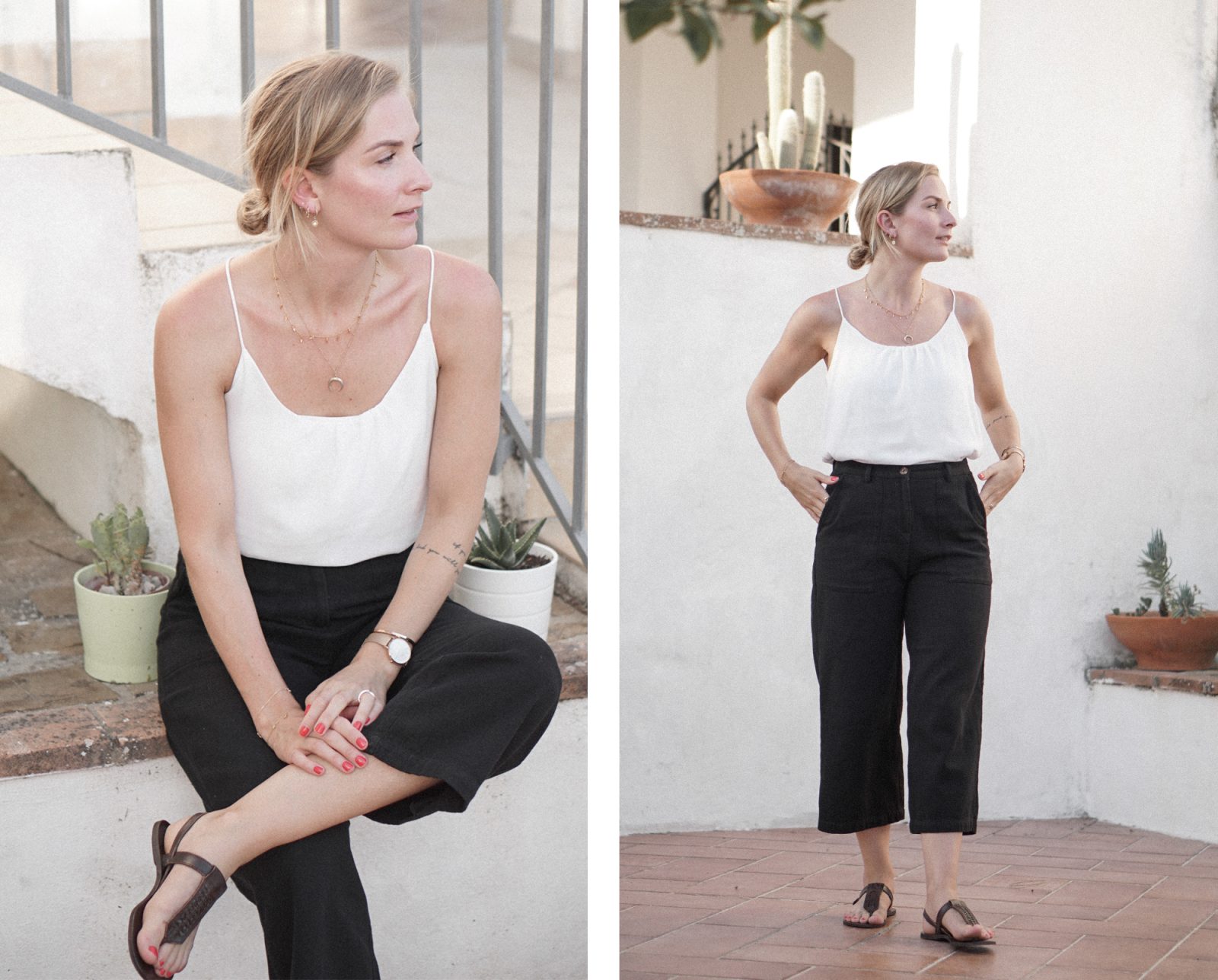 I love making packing lists and I always pack as light as possible. Both because, well the suitcase wont be as heavy, and also because I find it easier to make nice outfit combinations, when I've thought everything through and made sure everything can be combined with each other before I leave. If you want to know more about how I make my travel capsules you can do so right HERE. And as always I love bringing clothes with me, that can be dressed up and down as I like. Usually it doesn't take much extra effort. I kept within the monochromatic colour scale and added a few light colours like light blue and army and then my red nail polish in "Cajun Shrimp" by OPI (my fave, I've repurchased this colour for 6-7 years now!) worked as a bright accent colour for the rest. 
Now I'm back from a wonderful vacation, and I feel recharged and ready to make lots of new content for you all over the summer! If you're still on hliday or you're just about to leave I hope you'll have a good one, and that you will return with lots of new energy like me.
…
Jeg elsker at lave pakkelister og pakker altid gerne så let som muligt. Både fordi, altså kufferten vejer jo bare så meget mindre, men også fordi jeg synes det er nemmere at kreere fine outfits når man kommer frem, når man har tænkt over de kombinationer man kan lave på kryds og tværs inden man tager afsted. Hvis du vil lære mere om den fremgangsmåde jeg bruger når jeg skal lave mig en lille rejse-capsule kan du gøre det lige HER. Og som altid så elsker jeg at medbringe tøj som kan dresses op og ned alt efter mit humør. Der skal som regel ikke ret meget til. Jeg holdt mig inden for den monokrome farveskala med enkelte farver som lys blå, army og så min yndlingsneglelak i farven "Cajun Shrimp" fra OPI (har købt denne farve gennem 6-7 år, og ELSKER den!), der fungerede som en rigtig fin prik-farve.
Nu er jeg tilbage efter en skøn sommerferie, og jeg føler mig genopladet og klar til, at lave en masse lækkert content til jer her henover sommeren! Hvis du stadig har din sommerferie til gode eller sidder midt i den lige nu, så håber jeg den bliver mindst ligeså skøn som min, og at du kommer tilbage med fornyet energi ligesom jeg.