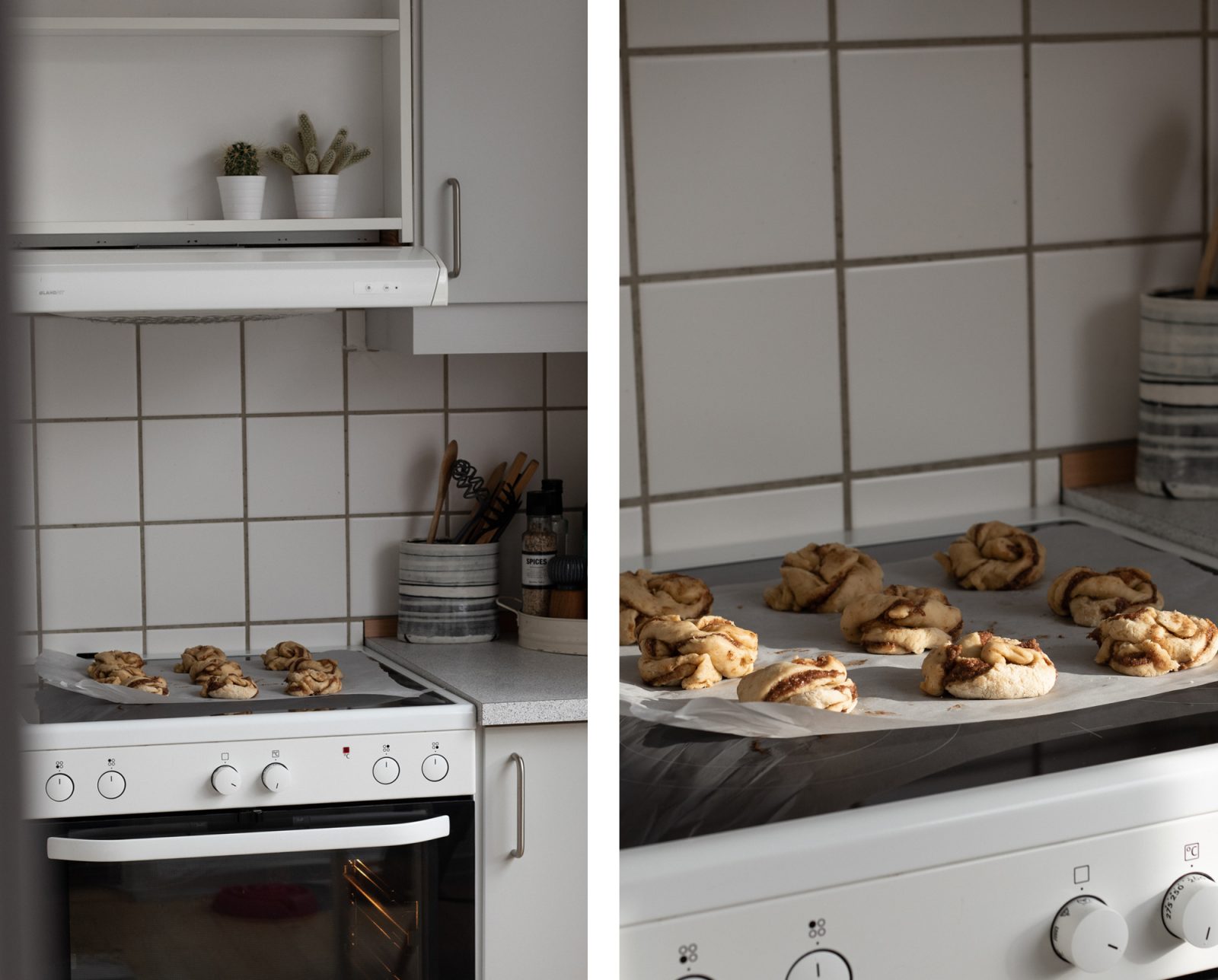 Alright guys! You've been asking for an english version of this recipe for a couple weeks now, since I first shared them over on my Instagram. So I made them once more this past weekend, so that I could share the recipe with you. BUT. This time I made them into a vegan version just to try and see what those where like! And then I made a version with cinnamon filling instead of cardamom too, but just in the normal non-vegan version. I figured since I'd never done them in a vegan version before it was kind of a risk to only make that batch in case they didn't turn out good.. plus my husband has been begging me to make these with cinnamon filling since I made my first batch of cardamom rolls a few weeks back, so I gave him what he wanted too 😉 Now we've got the freezer stuffed with these rolls which is nice both for when we're watching The Great Danish Bakeoff on Saturday nights (yes, we're that kind of couple haha), when we're working on renovating the house or when we have people coming over to either just see the house or help renovate it. Homemade baked goods are simply amazing. The rolls are best when they are fresh from the oven, but they are also good defrosted and then left in the microwave for around 40 seconds. With a cup of coffee on the side. I'm getting all hungry here…
…
Okay, venner! Hvis I er danske følgere har I nok selv fundet ud af opskriften, som jeg også har linket på mine stories ovre på Instagram et par gange. Men især mine udenlandske følgere har efterspurgt en oversat opskrift samt fremgangsmåde på disse lækre, snaskede kardemommesnurrer. Så jeg lavede dem igen her i weekenden så jeg kunne dele dem med jer én gang for alle, MEN. Denne gang lavede jeg dem om til en vegansk version, og så lavede jeg de helt samme snurrer med kanelfyld i stedet for også – dog i en almindelig, ikke-vegansk version. Har nemlig ikke eksperimenteret særlig meget med vegansk bagning, så jeg tænkte det var lidt af et sats kun at lave den veganske version, hvis nu det gik galt. Og manden har plaget om en udgave med kanelfyld siden jeg bagte kardemommesnurrer første gang for et par uger siden… så det fik han 😉 Nu har vi fryseren fuld af lækker bagværk, både til når vi sidder og ser Den Store Bagedyst lørdag aften (ja, vi er dén slags par haha), når vi arbejder oppe i huset eller når vi får gæster der enten skal have rundtur i huset eller kommer for, at hjælpe med at renovere. Hjemmelavet bagværk er bare lækkert at have i huset. Snurrerne smager bedst når de er helt nybagte, men er altså også lækre når de bliver tøet op og lunet et lille minut i mikroovnen. Med en kop kaffe til. Bliver helt lækkersulten…
Klik HER for at komme til den danske opskrift, og se hvordan du snurrer dem HER. Det syntes jeg nemlig var lidt forvirrende i selve opskriften, haha!
Jeg har oversat opskriften for mine engelske følgere her i dette indlæg. For at lave den veganske udgave har jeg ganske enkelt erstattet almindelig smør med vegansk smør fra Naturli (men du kunne også lave en almindelig sød, bolledej i stedet da den veganske smør gør dejen lidt tung), og så har jeg erstattet almindelig sødmælk med havremælk. Udover det penslede jeg dem selvfølgelig heller ikke med æg til den veganske version. Læs nederst i indlægget her hvordan jeg synes de blev, kontra de almindelige. For at lave disse lækre kardemommesnurrer om til kanelsnurrer, så erstatter du ganske enkelt kardemommen i selve sukkerfyldet med kanel. Nemt! Alt andet er ligesom i den opskrift jeg nævnte før. Vær opmærksom på, at fyldet godt kan løbe lidt og dét der ligger på pladen let brænder på (og kan ryge en del). Skru evt. lidt ned for ovnen hvis du vil undgå dette.
…
You need (for about 15-18 rolls)
For the dough:
1 pack of yeast (50 g)
3 dl whole milk (around 1,2 cups – replace with oat milk for a vegan version)
80 g cane sugar
½ tsp. salt
1 tbsp. crushed cardamom
ca. 675 g flour
150 g butter (soft – replace with vegan butter for a vegan version, or you could try another dough recipe that doesn't contain butter instead, and then continue with the rest of this recipe)
For the filling:
200 g butter (soft)
150 g cane sugar
50 g brown brown sugar
3 tbsp. crushed cardamom (replace with cinnamon if you want cinnamon rolls instead)
Brushing
Brush the rolls with an egg prior to baking (unless you're vegan). Brush the rolls with a mix of light sirup and water (1 tbsp water to 2 tbsp of syrup) once they are ou of the oven. Sprinkle with a mix of 1 tbsp cane sugar and 2 tbsp of cardamom (or cinnamon for the cinnamon version).
Click HERE to go to a "from EU to US" baking measurement chart.
1. Warm up the milk and stir in the yeast. Pour into a mixer if you have one, otherwise pour it into a big bowl. Add sugar, salt and cardamom and then the flour a little at a time – you don't necessarily need all of it. The dough most be soft but not sticky. Finally, add the butter to the dough – small patches at a time – and mix until the dough is soft and supple.
2. Let the dough rise covered for 1 hour in a warm place.
3. Mix the ingredients for the filling.
4. Roll out the dough on a floured table for approx. 60×40 cm and ½ cm thickness. Distribute the filling in an even layer.
5. Fold the dough on the long side and cut into approx. 3 cm wide strips. Twist each strip into a fine spiral, and tie a knot on the dough. Watch a guide here if you find it confusing.
6. Place the rolls on a baking plate with baking paper and allow to rise to double size for approx. 45 min (the vegan version doesn't rise that much).
7. Brush the cookies with whipped eggs (unless you're vegan), and sprinkle with crushed cardamom.
8. Bake the cakes golden at 220 degrees for approx. 10 min. Watch the filling, because it can run out and burn easily! 
9. Mix syrup with water in a small glass and mix cardamom (or cinnamon) with sugar in another small glass.
10. Brush the freshly baked rolls with syrup water and sprinkle with cardamom (or cinnamon) sugar.
Best fresh from the oven but can be frozen and then reheated for around 40 seconds in the microwave.
As you can see here the vegan ones (the ones towards the front on the right image) turned out a bit more "compact". But still good!
Right now these rolls are quite the thing around here – both the cardamom stuffed ones and those with cinnamon filling too. Yum! The vegan version was a bit more heavy and "compact" in texture than the regular ones, the dough was a bit more wet to work with and also it didn't really rise and become fluffy. They were still amazing (and they will get eaten, don't you worry about that), but I think next time I'm making these in a vegan version I want to find another basic recipe for a sweet, vegan bun dough and then just make the same filling as in the recipe I've been using all along. Just so the dough, the base of the roll, will be a bit lighter and more fluffy like it's really supposed to. You can still make the filling with vegan butter though! 
When all this is said, if you want to make the non-vegan version the before mentioned, butter filled recipe is PERFECT. You get the most amazing, smushy cardamom rolls! If you want to try my version with cinnamon too, be careful with the amount of cinnamon for the filling. The cinnamon soaks up more moisture that cardamom (I discovered) so my cinnamon rolls were not nearly as smushy than the cardamom ones. So maybe be a bit sparse with the amount of cinnamon, or add a bit more butter to the filling recipe. Just a tip.
I hope this recipe will bring you lots of hygge!
…
Lige nu er disse snurrer et kæmpe hit herhjemme – både kardemomme og kanel udgaven. Mums! Som jeg hentydede til før, så synes jeg den veganske udgave blev lidt "tung" og kompakt i tekstur. Dejen var lidt mere våd og arbejde med, og desuden hævede den heller ikke rigtigt. De var stadig sygt lækre (og de bliver spist, kan I tro), men jeg tror måske at næste gang, så vil jeg lave en anden, sød dej helt uden smør, for at den bliver lidt mere luftig. Der er jo masser af smør i selve fyldet, så der kan man jo stadig bruge den veganske udgave hvis man vil. Skal bare lige have fundet en god opskrift på en sød og luftig grund dej.
MEN når det er sagt, så hvis man vil lave den almindelige ikke-veganske version, så er denne smørfyldte dej altså helt perfekt. Man får de lækreste, snaskede kardemommesnurrer! Hvis du laver udgaven med kanel, så pas evt. på med mængden af kanel, når du blander fyldet. Kanel suger nemlig lidt mere end kardemomme (fandt jeg ud af) så derfor blev kanel-versionen ikke helt så snasket. Så der kan du evt. tilføje lidt mere smør eller måske bare spare lidt på kanelen. Blot et tip.
Hyg jer med denne opskrift!