The misunderstandings of being an introvert
My lovely sister has sometimes told me that when I was a kid I often lost myself in my own little world. Apparently comfortable (maybe a bit unaware) in my own little bubble. Later in my life it was probably more a way of protecting myself from uncomfortable situations, but it stuck with my personality nonetheless. Especially through my years as a teenager and up until just a few years ago, it's something I've vainly tried to change about myself several times. It's a characteristic that I've been embarrassed of and that has always left me feeling different and weird compared to my friends. I don't wish to be treated differently and I'm not begging for pity (this post is more me trying to break the taboo it is to be an introvert), but I know how alone you can feel mentally, and it's probably the worst feeling in the world. I've had trouble understanding why I felt such a huge need to step back and be be myself for a while, so I could immerse myself in something without anyone else interferring and then feel good about it. I always thought that this was something I would naturally grow out of, it just never happened. Besides that I've had trouble with using the term "introvert" because many people think that all introverts are the same kind: shy and better off left alone. But everyone's different – that goes for introverts as well!
My introvert characteristics have made it hard for me to find a job that didn't drain me completely, because on most jobs you find yourself surrounded by a lot of people every single day, without the ability to move your workstation just to get a short break for a while. This means that everyday you'll get exposed to noise and conflicts that you can't always help but to relate to (even though it might not have anything to do with you at all). And then there's the social aspect which is obviously good and necessary, but can also turn out to be your worst enemy if you don't have any opportunity to escape it once in a while, or to at least build up a flexible job that is suitable for you. Around the time I quit my last fulltime job I was on the edge of a breakdown, and daily anxiety and panic attacks where a part of my everyday life. I didn't tell anyone else but my husband at the time. I just hung in there and didn't want any special treatment or for anyone to think I needed to be treated any different. I would sit surrounded by my colleagues at lunch and be hit by a panic attack – my cheeks would flush, and I felt the entire world was watching my every move and judging me, when really noone probably noticed anything different about me. That's when I knew I needed to do something about my situation, and I remember that when I had to quit I didn't even have the right words for what was going on. Everything was just a mess inside my head, and i couldn't really put it to words. So I ended up going for a life as self-employed. If anything just to get a break and to just breathe for a while. You can read more about that HERE and HERE. But I felt so ashamed: embarrassed that I've quit my third fulltime job since finishing my education, and I was so afraid that people would think of me as lazy or being on the hun for some unrealistic job where you could never have a bad day.
…
Min dejlige søster har nogle gange fortalt mig, hvordan jeg som barn befandt mig meget i min egen lille verden. Tilsyneladende tilpas (og måske sådan lidt uvidende) i min egen lille boble. Senere i mit liv var det nok en måde at beskytte mig selv på, men ikke desto mindre er det noget der altid har hængt ved min personlighed. Især op gennem mine år som teenager og ja, faktisk indtil for blot et par år siden, er det noget jeg forgæves har forsøgt at ændre på af flere omgange. En egenskab jeg har været flov over, og som har gjort at jeg altid har gået og følt mig anderledes, sat af og mærkelig i forhold til mine jævnaldrende. Jeg ønsker slet ikke særbehandling eller medfølelse (indlægget her er nærmere et forsøg på at bryde det tabu, som det på mange måder er, at være introvert), men jeg véd om nogen hvor alene man kan føle sig rent mentalt når man er introvert, og det er den værste følelse i verden. Jeg har haft svært ved at forstå, hvorfor jeg har SÅ stort et behov for, at være jævnligt alene og fordybe mig i noget uden andres indblanden og derfor har jeg altid gået og troet, at det nok bare var noget jeg skulle arbejde på og så ville jeg en dag vokse fra det. Det skete ligesom bare aldrig. Og så har jeg haft svært ved at stå ved termet "introvert", fordi mange fejlagtigt tror at alle introverte er ens: at alle introverte er generte og bedre kan lide at være alene. Men der er jo forskel på mennesker – også introverte!
Mine egenskaber som introvert har gjort det utrolig svært for mig, at finde et job som ikke gjorde mig udbrændt, fordi man på de fleste arbejdspladser jo er omgivet af mange mennesker hver eneste dag. Du har ikke mulighed for at flytte dig for lige at få en pause, hvilket betyder mange situationer man automatisk kommer til, at forholde sig til (også selvom det slet ikke har noget med dig at gøre), larm, konflikter og i det hele taget det sociale aspekt – som jo er godt og uundværligt – men som også kan blive din værste fjende, hvis der ikke er mulighed for at opbygge en stilling, hvor du kan opretholde den balance der er nødvendig for dig. På det tidspunkt jeg opsagde mit sidste fuldtidsjob var jeg på kanten af et mindre sammenbrud, og daglige angstanfald var en del af min hverdag. Jeg sagde det ikke til andre end min mand på det tidspunkt. Hang bare i, og ville ikke være til besvær eller have særbehandling. Jeg kunne sidde omgivet af alle mine kollegaer til frokost og blive ramt af panik ud af det blå – få helt opblussede kinder og føle, at alle i hele verden kiggede på mig og dømte mig selvom der sikkert ikke var en klap der bemærkede noget. Dér vidste jeg, at jeg var nødt til at gøre noget ved min situation, og jeg kan huske, at da jeg sagde op så vidste jeg slet ikke hvad jeg skulle sige eller hvor jeg skulle starte. Det var bare et stort mudder jeg ikke kunne sætte ord på. Og så besluttede jeg mig for at satse på livet som selvstændig. Om ikke andet, så ihvertfald bare for, at få alting på afstand og få et pusterum. Det kan du læse mere om HER og HER. Men jeg syntes det var flovt; flovt at jeg havde opsagt mit tredje fuldtidsjob som forholdsvis nyuddannet, og jeg var bange for at folk ville opfatte mig som doven eller som værende på jagt efter et urealistisk perfekt job, hvor man aldrig kan have en dårlig dag.

tee – Only (old) / skirt – vintage / shoes – Converse / bag – Marc Jacobs
Not anti-social: selectively social
Today I work kinda half and half as many of you know, so I have a part time job that I'm really pleased with and which gives me financial stability every month, but then I also work alone on my own projects a lot of the time. No matter if I can keep doing this or not, it's probably the best decision I've ever made, to give myself this break, get to know myself a bit better and just be able to build up a more flexible job that I love and that allows me to contribute to our society like any other job. I love working (and I do work more now than before!) and it's as important to me as for anyone to feel that I have a purpose and that I can contribute with something. But I've also found out that it actually doesn't even matter what I'm doing as long as I'm overall happy and feel in balance, even when the bad days strike. I don't need to make tons of money as long as I'm happy and able to have a more flexible everyday life. Again I don't mean to make you think I need any special treatment, because it's not like that at all. I have no idea what I'm doing 10 years from now and I'm fine with that. Sure I have dreams that motivate me and makes me stronger, but I'd just as much like to be happy here and now and just see what time brings.
I feel like I've finally made peace with being an introvert. A social introvert, which means that most days I'm actually quite outgoing and social, but if you meet me on a day where I'm out of balance I seem almost shy, quiet and sad. I've learned to respect myself and the breaks I need, when (or before!) the social hangover hits and I know exactly what I need, to get back on track so I can be there for the people I love and who needs me. I've also learned that if I'm alone too many days in a row, I'll get out of shape too. So it's a constant balance I need to work on, like it basically is for all people – I guess the aftermath just hits harder when you're an introvert.
…
I dag arbejder jeg som mange af jer ved sådan lidt halv/halv – jeg har et deltidsjob som jeg er rigtig glad for og en fast, stabil indkomst hver måned, men jeg arbejder også alene på mine egne projekter meget af tiden. Uanset om jeg kan blive ved med det på sigt eller ej, så er det nok den bedste beslutning jeg nogensinde har taget, at give mig selv det her pusterum og få lov til, at bygge mit bidrag til samfundet lidt anderledes op end normalen, og bare lige lære mig selv lidt bedre at kende. Jeg elsker at arbejde (og arbejder da også mere nu end jeg gjorde før!) og det er ligeså vigtigt for mig som for alle andre, at føle jeg har en "funktion" og kan bidrage. Men jeg har også fundet ud af, at det egentlig er "ligemeget" hvad jeg laver så længe jeg overordnet set er glad og føler mig balanceret, selv når de uundgåelige dårlige dage rammer. Jeg behøver ikke tjene kassen, bare jeg er glad og kan have en fleksibel hverdag. Igen så kan det virke som om man er sådan lidt vigtig-per og skal have særbehandling, men sådan er det slet ikke. Jeg aner ikke hvad jeg laver om 10 år og det har jeg det fint med. Jeg har da drømme der motiverer mig og gør mig stærkere, men jeg vil ligeså gerne bare være glad nu og her og se hvad tiden bringer.
Jeg føler, at jeg endelig har sluttet fred med at være introvert. En social introvert, hvilket betyder at jeg de fleste dage virker åben og social, men på en ubalanceret dag kan jeg virke indelukket, stille og trist. Jeg har lært at respektere mig selv og de pauser jeg har brug for, når (eller inden!) de sociale "tømmermænd" rammer og ved også præcist hvad jeg har brug for, for at komme ovenpå igen og så jeg kan være der for dem, som har brug for mig. Samtidig har jeg også lært, at hvis der går for mange dage imellem at jeg kommer ud og er social, så kommer jeg også i ubalance. Så det er en konstant balance der skal opretholdes som det jo er for alle mennesker, men du er nok bare lidt mere modtagelig og kommer lidt hurtigere på dybt vand hvis du er introvert.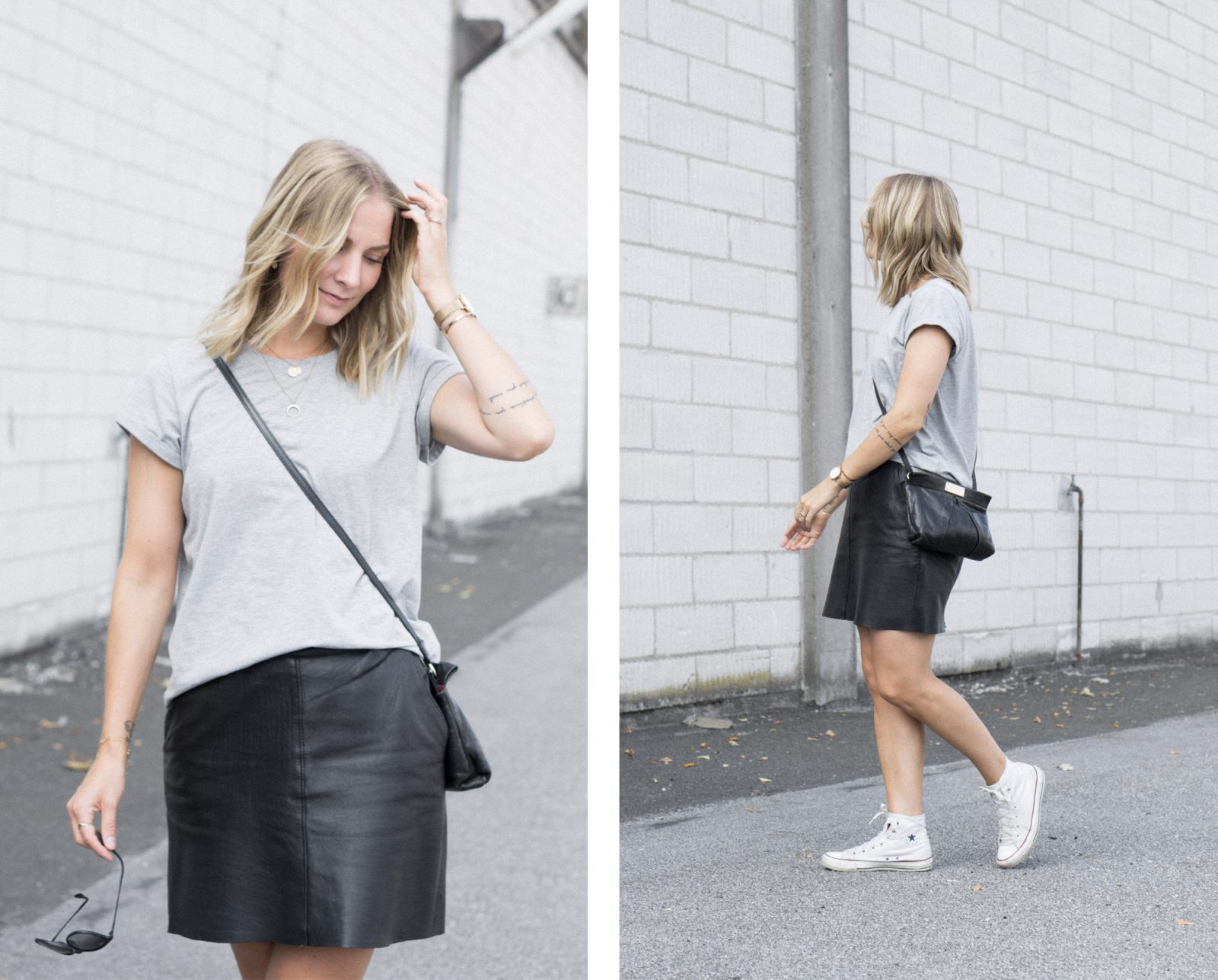 Working with it; not against it
I'm convinced that my need for "quality above quantity" comes from being an introvert. It doesn't have to be this way for everyone, but it is for me anyway. Not only materialistic speaking but also when it comes to deeper things like friendships and important projects. In pre-school I always stuck with 2 close friends and I rarely felt comfortable in large groups, but I also invested all of my time, energy and love into those few friendships. My husband and I rarely make plans too many weekend in a row, and it just feels nice to be able to do things a bit more spontaneous if there's anyone we'd like to hang out and drink coffee with, whatever we feel like on the particular day. I think minimalism as a lifestyle feels natural to me, because of my introversion. Again I don't say that it's a must, but it's made a difference for the way I look at minimalism anyway. My whole online universe is build around "less is more", because that is truly how I live my life and who I am. At the same time I understand the people who says that they can't live a life limiting themselves like that, because it doesn't feel natural to them. We're all different. Being an introvert is a taboo – and growing up with that feeling that it was something I needed to grow out of to survive, is probably something many introverts feel. I've often been mistaken as being anti-social, quiet, shy, moody etc. and therefore I've always had that urge to change. To work against my introversion instead of working with it. The fact that people feel the need to point out that you are "quiet" testifies a huge misunderstanding in our society. A pressure we put on each other of being outgoing and alert all the time, and if we aren't then something must be wrong.
No matter what I finally feel like I've made peace with and no longer see it as a limitation being an introvert. I look at it more as an amazing ability to immerse yourself in something; not only in projects that you have a passion for, but also in social relations that matter. An ability to notice little details that noone else notices. So today I've chosen to look at my introversion as an indispensable superpower in a society where everything passes you by in a blink of an eye! It's not something you should hide behind or let yourself get limited by in any way, but at the same time it's so important to recognize, accept and deal with your own way.
Find out if you're an introvert right HERE. I can say for sure that I am, and it just feels good knowing you're not alone feeling a bit weird. 😉
…
Jeg er overbevidst om, at min hungren efter "kvalitet frem for kvantitet" kommer af, at være introvert. Sådan behøver det selvfølgelig ikke være for alle, men sådan er det ihvertfald for mig. Ikke kun når vi snakker rent materialistisk, men også når det kommer til dybere ting som fx venskaber og vigtige projekter. I folkeskolen har jeg altid holdt mig til max 2 nære venskaber og følte mig sjældent godt tilpas i større grupper, men til gengæld investerede jeg så også alt min tid og kærlighed i netop de venskaber. Min mand og jeg lægger sjældent planer for mange weekender ud i fremtiden, og det er faktisk dejligt at kunne springe mere spontant til, hvis der så er nogen man gerne vil ses med eller som vil kigge forbi til en kop kaffe – alt efter hvad man nu lige har lyst til. Jeg tror minimalisme som begreb og livsstil falder mig enormt naturligt, fordi jeg netop er introvert. Jeg siger ikke det er et must at man er det, for at være til minimalisme, men det har betydet noget for mig ihvertfald. I det hele taget er hele mit online univers jo bygget meget op omkring "lidt men godt", for det er virkelig sådan jeg lever mit liv og sådan jeg har det bedst. Det er sådan her jeg er. Samtidig så forstår jeg også godt de mennesker der siger, at de aldrig kunne leve på en måde, hvor man "begrænser sig" på den måde fordi det bare ikke føles naturligt. Sådan er vi er jo allesammen forskellige. At være introvert er enormt tabu-belagt, og den følelse jeg er vokset op med – at det var noget, som jeg skulle fralære mig for at overleve – er nok noget mange introverte føler. Jeg er ofte blevet stemplet som asocial, stille, genert, sur, bedrevidende, humørsvingende etc., og derfor har jeg haft en helt naturlig trang til, at ville modarbejde min introversion i stedet for, at arbejde med den. Andre menneskers trang til fx at påpege, at "du er godt nok stille" vidner om en misforståelse i vores samfund. Et pres vi ligger på hinanden om konstant at skulle være på, og hvis ikke man er det – ja, så må der jo være noget galt.
Uanset hvad så føler jeg endelig jeg er nået til et punkt, hvor jeg ikke længere ser det at være introvert som en begrænsning, men nærmere en fantastisk evne til, at kunne fordybe sig; ikke kun i projekter som man brænder for, men også i de relationer der betyder noget. En evne hvor man lægger mærke til de små detaljer, som måske går andres næse forbi. Så i dag har jeg valgt at se på det som en uundværlig superkraft i et samfund, hvor alting går stærkt og hvor mange har svært ved at fordybe sig! Det er absolut ikke noget man skal gemme sig bag eller lade sig begrænse af, men alligevel noget der er supervigtigt at anerkende og tage hensyn til på sin egen måde.
Du kan finde ud af om du også er introvert lige HER. Den liste er ihvertfald 100% mig, og det føles bare dejligt at vide, man ikke er den eneste i verden som føler sig lidt sær. 😉