I cannot believe that 2019 has come to an end! It's so cliché (and I seem to always mention this in my winter capsule posts, haha), but oh boy has this year just flown by. I remember it like just yesterday that I decided to go full-on self employed, we moved from our old house to the apartment (and now into a new house again) and we spent our summer holiday in France. Fortunately when I look back at all these individual things that has happened this year, I'm remembering them as something good. It's been a great year although stressful at times. We're in the middle of renovating our new home, so I must admit that when it comes to tuning in on the ol' Christmas spirit it's kinda hard for me to feel it right now. It finds its way to me sporadically – last Friday we watched The Holiday and we've also just watched Love Actually, which are two of my favourite Christmas movies. That did the trick a little bit. And hopefully when we're all done with our kitchen and hallway in 2-3 weeks, and think I'll feel the magic of Christmas a bit more. Because then I'm gonna dig out our box with Christmas decor and make our house nice and festive. Well, those parts of the house that are done anyway because we wont be all done renovating probably before the start of the new year. But then the first big part of the house will be done at it's gonna be amazing – it already is now with just the bedroom and master bathroom all done. We both feel very grateful for our new house and neighborhood, and there's not a shadow of doubt that we made the right decision selling the old house and moving back to our home town Aabenraa.
Anyway, I've tried to dig out the storage boxes where I keep my clothing from previous seasons, and I've slowly started to tune in on my winter capsule! The weather is still quite mild, but I've already been reunited with my good, old winter parka that I've had for nearly 8 years and I've missed it so very much.
…
Kan simpelthen ikke fatte, at 2019 snart er slut! Det er mega kliché (og jeg skriver det altid i mine vinter capsule posts, haha), men shit hvor er det her år bare fløjet afsted. Husker det som i går at jeg tog beslutningen om at blive 100% selvstændig, vi flyttede fra hus i lejlighed (og bor nu i hus igen) og var i Frankrig på sommerferie. Heldigvis når jeg ser tilbage på de posts jeg har skrevet i år, så husker jeg alle de enkeltstående begivenheder som noget godt. Det har været et godt år, selvom det har været lidt stressende til tider. Vi er midt i at renovere vores nye hus, så jeg må indrømme at når det kommer til julestemning, så er det liiiidt svært for mig at tune ind på lige nu. Det kommer sådan lidt i perioder – i fredags så vi The Holiday og senest har vi set Love Actually, to af mine yndlings jule-film. Det hjalp lidt på det. Og når vi forhåbentligt er færdige med vores køkken og entre her om 2-3 uger, så tror jeg også nok jeg skal komme i julestemning. Så har jeg nemlig tænkt mig, at pynte bare lidt op og komme lidt mere i julestemning, også selvom vi ikke bliver færdige med at renovere huset helt før engang i starten af det nye år. Men så er første halvdel af huset færdig og det bliver skønt – det er det allerede nu, på trods af at kun soveværelse og badeværelse står klart. Vi er begge uendeligt taknemmelige for vores nye hjem og nabolag, og der er ikke den mindste tvivl om, at det var den rigtige beslutning at sælge vores gamle hus og flytte hjem til Aabenraa.
Anyway, jeg har forsøgt at grave mig frem til de flyttekasser der indeholder det tøj jeg har gemt væk fra forgangne sæsoner, og er så småt begyndt at forberede min vinter capsule! Vejret er stadig ganske mildt, men min snart 8 år gamle, tykke vinterfrakke har jeg nu alligevel fundet frem og gensynsglæden var stor kan I tro.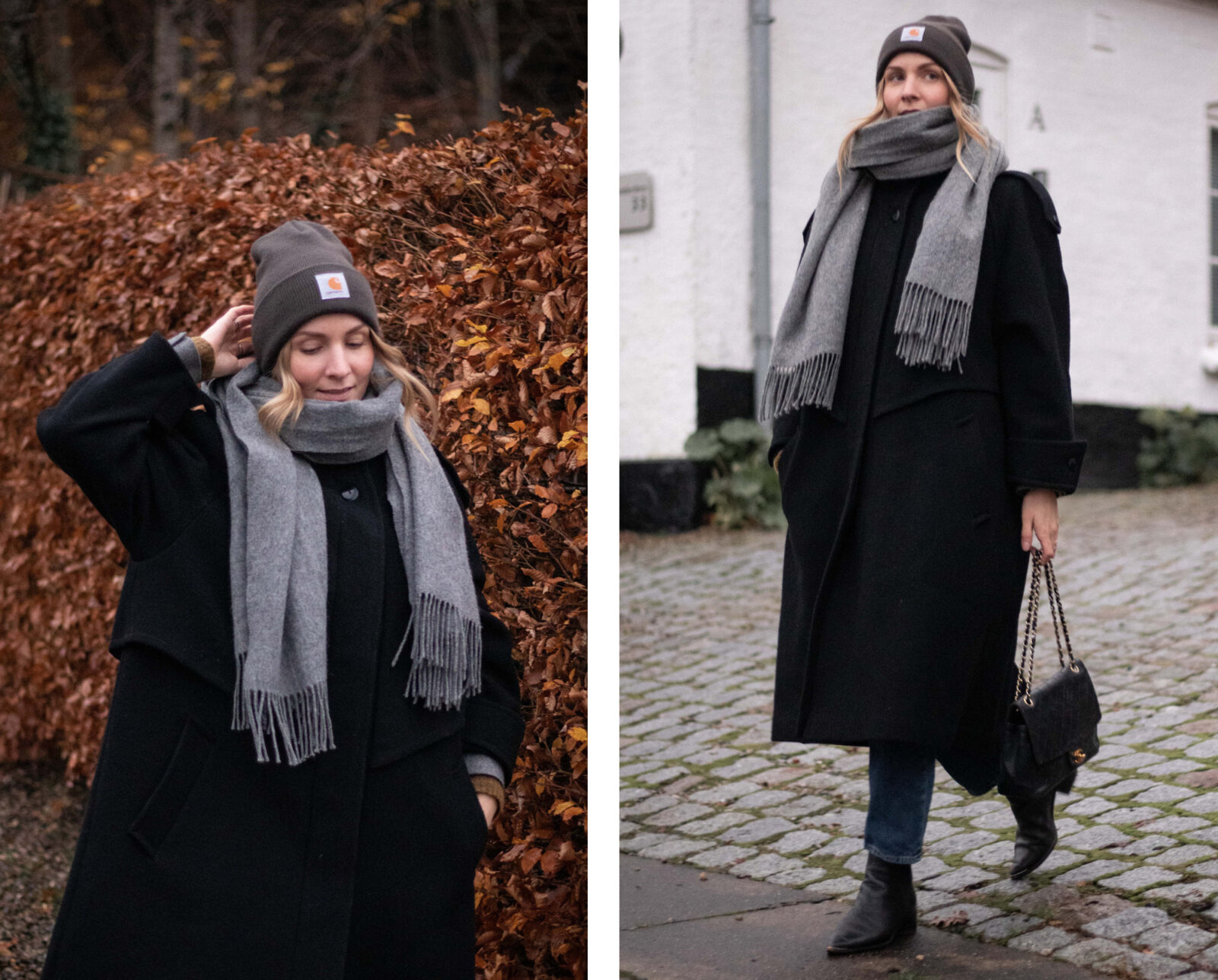 Coat – Vintage / hat – Carhart (my husband's but I stole it, lol) / jeans – Armed Angels (review HERE) / boots – super old, 2ndhand Acne Studios / bag – vintage Chanel / Scarf – old from Ichi
What I'm inspired by this season
Ahead of this year's autumn season I decided to make things a bit more simple than usual, and I'm gonna continue with this (for me) rather new approach to building my capsule wardrobe, because it's been working so well through autumn. So instead of having a wardrobe with around 35 all-year basic items and then add 5-7 season based items on top of that, I took out some of the basic items from my wardrobe I hadn't been wearing for a while anyway, and replaced them (and by that I of course means stored them away for future seasons) with a handful of autumnal items, which I dug out primarily from storage. I'm gonna do that same thing this winter season. I still find it super helpful to have my backbone basics defined, but at the same time I also like not having too many options on a daily basis. It makes me more creative with outfit combos and it makes it a more effortless task to put a nice outfit together in the morning, which is the essence of a good capsule wardrobe. 
So this season my winter capsule will be a lovely mix of timeless basics in white/black/grey, and then with some winter favorites in navy and brown thrown in there as well. Maybe also a slight contrast of red, I've not fully decided on that yet. I've got a red jumper from a couple years back, and then some of you might remember my checkered red/black jacket/shirt (shacket?) that I bought in Beyond Retro in London last year. I've missed that cool jacket and I love wearing it with a thin puffer underneath through winter, but I haven't decided yet if I want to save it for spring. In a way it's winter in a jacket if you know what I mean, it has that "wintery Canada" vibe to it.
…
Her til efteråret besluttede jeg mig for, at gøre tingene lidt mere simpelt end jeg plejer, og det vil jeg forstætte med – det har nemlig fungeret super godt. Så i stedet for at have en hel basis garderobe med omkring 35 items og så tilføje 5-7 sæson-betonede items oveni, så tog jeg nogle af de basic favoritter fra som jeg ikke havde brugt noget tid, og erstattede dem (dvs. pakkede dem væk til en anden gang) i stedet med de her sæson items, som også primært er fundet frem fra gemmerne. Det vil jeg gøre igen her til vinter. Det er stadig godt ligesom at have defineret en god basis garderobe, men jeg kan godt lide ikke at have alt for mange items at vælge imellem totalt set. Det gør mig mere kreativ med outfit kombinationer, og det gør det mere overskueligt at klæde sig på, hvilket jo er essensen af en god capsule wardrobe.
Så denne sæson bliver min vinter capsule et dejligt mix af gode, tidløse basis items i sort/hvide/grå farver, blandet med nogle vinter favoritter i brune og navy nuancer. Måske også en lille kontrast af rød, det har jeg ikke lige helt besluttet mig for endnu. Jeg har jo en rød strik liggende fra nogle år tilbage, og så kan nogle af jer måske også huske min fine ternede uldjakke/skjorte, som jeg købte i Beyond Retro i London sidste år. Den har jeg savnet og den er god gennem vinter sæsonen med en tynd dunjakke indenunder, men jeg har ikke helt besluttet mig for, om den skal gemmes til foråret. Den er jo indbegrebet af efterår og vinter på en måde, fordi den har lidt sådan en "snefuld Canada" vibe over sig.
My wishlist
I'm loving the more clean/classic look at the moment, and I find it perfect for the winter season. I've already bought a new jumper from Armed Angels in this lovely brown/caramel color, which will fit perfectly into the color mood I'm tuned in on this season. Besides that I've also received a pair of dress pants in navy from the same brand, because I'm doing a collab with a sustainable fabric trademark that you guys will soon hear much more about (and that I'm so honored to be part of it!). Besides I know I've got some jumpers from years back in my storage boxes, which will go perfect with my navy/brown color mood. So need to have a look at those and try them on to see which ones I want to bring out this year. I'm also a little bit hooked on colored socks this year! Not strong, powerful colors but a navy blue or brown sock to wear with cropped jeans and trousers would be so cool! Kinda like THIS picture that I stumbled upon on Pinterest the other day. A lot of you guys always seem to ask what I do about cropped trousers during winter, and what I do to make sure I keep my ankles warm. Often I simply wear ankle boots and a nice, long sock to stay warm, but if you want to go the extra mile you could obviously add a nice sock when you wear cropped jeans and trousers with for example sneakers, loafers or oxfords during winter. It's such a cool way to look chic but keep your ankles warm at the same time, I think. 
Next week we'll receive or new closet (eeeek!), and I'm like a kid at Christmas just by the thought of it! We've designed it ourselves, so that it's gonna be exactly how we want it. We'll actually have a much smaller closet than we had in our old house, but because we've been pretty clever about the design of it, the space inside of it will be utilized much better and I don't think we'll even notice that it's actually smaller. I'm of course gonna make some content all about it soon, and I'll also give you an updated wardrobe tour when it's all done. It's gonna be nice to unpack some of those boxes of clothing we've got scattered around the house right now, not to mention having a nice closet again!
…
Jeg er vild med det mere klassiske/rene udtryk lige pt., og synes det egner sig super godt til vinter sæsonen. Jeg har allerede købt en enkelt ny strik fra Armed Angels i en lækker brun/karamel farve, som passer perfekt ind i mit farveunivers denne sæson. Udover det har jeg modtaget et par klassiske, navy bukser fra samme brand i gave, i forbindelse med et samarbejde med et bæredygtigt trademark (som jeg er super beæret over, at være en del af!), som I kommer til at høre meget mere om snart. Udover det så ved jeg at jeg har nogle items liggende fra år tilbage – især nogle striktrøjer – som ville passe perfekt ind i det her navy/brune farveunivers. Så dem skal jeg lige have kigget igennem, og prøvet på. Jeg er også lidt hooked på farvede strømper i år! Altså ikke sådan en pang farve, men igen en brun eller navy strømpe til cropped jeans og bukser, for ligesom at matche de andre farver i garderoben kunne være SÅ fint! Lidt ala DETTE billede, som jeg stødte på på Pinterest den anden dag. Mange af jer spørger ofte hvad jeg gør for ikke at fryse om vinteren, når jeg er iført cropped bukser og jeans. Ofte har jeg en ankelstøvle og en lidt længere strømpe på, men hvis man gør lidt ud af det kan man jo sagtens have et par "pæne" oxfords, loafers eller sneakers på med cropped bukser og så en fin, farvet strømpe som på førnævnte billede. Super cool måde at se chic ud, men samtidig holde anklerne varme vinteren igennem, synes jeg.
Næste uge bliver vores nye garderobeskab leveret (eeeek!!), og jeg glæder mig som et lille barn til det kommer! Vi har nemlig designet det selv, så det bliver præcis som vi gerne vil have det. Vi får en del mindre skabsplads end vi havde i vores gamle hus, men fordi indretningen af skabet er så smart, så bliver pladsen udnyttet meget bedre og jeg tror ikke vi som sådan kommer til at mærke, at det faktisk er mindre. Jeg kommer til at lave noget indhold om det meget snart, og skal også nok give jer en ny wardrobe tour så snart det er færdigt. Det bliver skønt, at få mit tøj pakket ud af flyttekasser og endelig få det pænt hængt ind i et dejligt skab igen!