Ever since staring my journey towards minimalism over 2 years ago and build my first ever capsule wardrobe, I've been accused of things like "you always wear the same", "your style is boring" or "why don't you wear more colours". Both on my social platforms but also in real life. And it's got me thinking. One thing is that we demand change quite often from ourselves for example when it comes to dressing. I think many people (especially women) know this feeling. But do we actually get to demand this from others too? Ad why do we do that?
Lige siden jeg for over 2 år siden startede min minimalist-rejse og byggede min første capsule wardrobe, har jeg skullet udsættes for sætninger som "jamen, du går jo altid i det samme", "din stil er kedelig" eller "hvorfor går du aldrig i farver". Både på mine sociale platforme, men faktisk også i det virkelige liv. Og det har fået mig til at tænke. Én ting er, at vi måske forlanger af os selv, at vi skal tilbyde vores omverden hyppig forandring i form af fx nyt tøj. Det tror jeg især mange kvinder kan nikke genkendende til. Men forlanger vi det også af hinanden? Og hvorfor egentlig?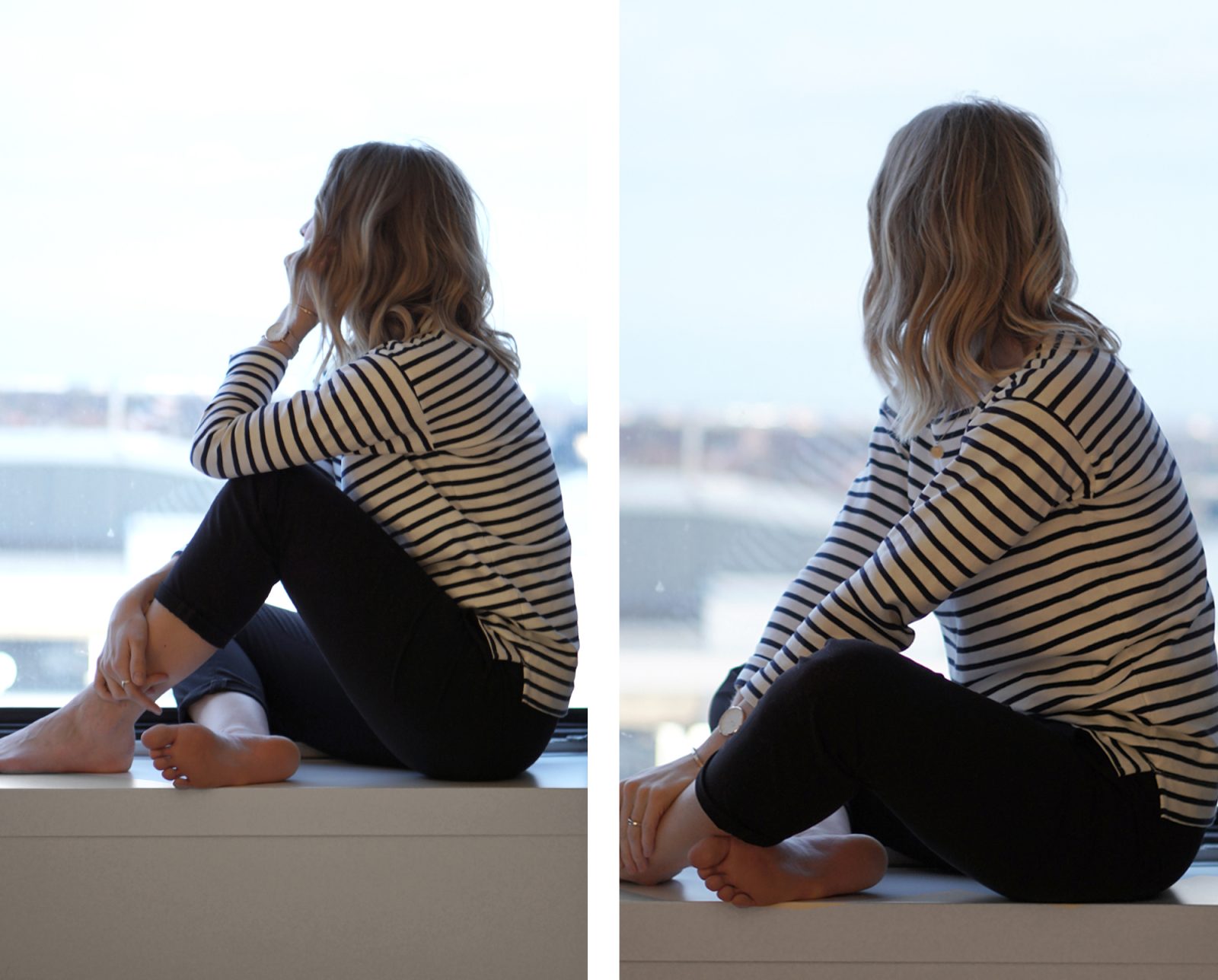 I understand that I'm already on a limb here, because I discuss sustainability and minimalism in general, so I have to own up to quite a lot. But seriously, where's the constructive feedback in a comment like "you always wear the same"? Because YES, I'm totally guilty as charged, I do wear the sames things over and over again for seasons – even for years. When I purchase something for my wardrobe, I buy it to keep it. Not to throw it out next week. So yeah, I wear the same things again and again. But if that's a crime doesn't it tell you more about our society and our consumption than it tells you something about me as a person?
Jeg er helt med på, at skulle stå til måls for undren og konstruktiv kritik eftersom jeg har bevæget mig ind på et emne som bæredygtighed og en minimalisme, men hvad skal jeg helt ærlig bruge en sætning som "du går jo altid i det samme" til? Ja, at genbruge meget af mit tøj i flere sæsoner, endda år er jeg storslem til. Når jeg køber noget til min garderobe er det en investering der er købt for, at blive brugt. Så ja; jeg GÅR i det samme hele tiden. Men hvis det er en forbrydelse siger det så ikke mere noget om, hvor vores samfund er rent materialistisk end det siger noget om mig?
I think what I want to express with this post is my wish for us (again – especially women) to empower each other more, than constantly demanding from ourselves and each other, that we need to be perfect. Have a perfect home, makeup, wardrobe – you name it. I'm no Scandinavian IT-girl who's got all the latest trends covered even though I'm what you would call a "blogger". And even though I still make mistakes whenever I purchase something because I'm no sustainability-expert, in the end I'm just trying to rethink a business that is polluting our environment in so many ways. Shouldn't I get just a little credit for having the guts to go against normalities, and use my clothes more than 2-3 times? I think so, if I do say so myself. But if it's more meant as a challenge that I wear the same looks over and over again; well, challenge accepted. I'll try styling my wonderful wardrobe in  even more new ways in the future.
Jeg tror jeg er ude i, at jeg ville ønske vi kunne hylde hinanden lidt mere (især som kvinder), end konstant at forlange af hinanden, at vi skal være perfekte. Have styr på makeup, garderobe, hjem – you name it. Jeg er ikke en Skandinavisk IT-girl med styr på de nyeste trends på trods af at mit erhverv er såkaldt "blogger". Og selvom jeg stadig selv kan lave fejlkøb og somme tider famler lidt i blinde når det kommer til bedre forbrug, fordi jeg ikke er øko-ekspert, så prøver jeg i sidste ende bare på, at nytænke en branche der forurener vores miljø på så mange måder. Burde jeg egentlig ikke få kredit for at jeg tør sætte mig mod normen, og bruge mine ting mere end 2-3 gange? Det synes jeg, hvis jeg selv skal sige det. Men hvis dét at jeg konstant går i det samme mere er ment som en udfordring; så er den hermed accepteret. Jeg vil med glæde forsøge (endnu mere), at style min garderobe og de ting jeg i forvejen har på nye friske måder!